Welcome to Hello! Project Wiki
Articles
---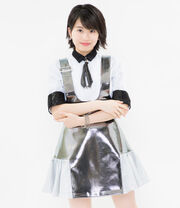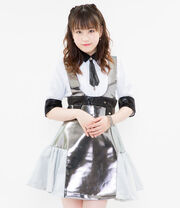 May 16, 2019 - Asakura Kiki and Niinuma Kisora take a break from activities

On May 8, it was announced that Tsubaki Factory's member Asakura Kiki would be taking a break from her activities due to lumbar disc herniation. She had already had to take a break due to it back in 2017.
Asakura will be absent from the rest of Tsubaki Factory Live Tour 2019 Haru・Ranman and from the upcoming musical starring Tsubaki Factory, Harukanaru Toki no Naka de 6 Gaiden ~Tasogare no Kamen~, where she was to play the lead role.
Only about a week later, on May 16, it was announced that Niinuma Kisora would be taking a short break from her activities as well. She had fallen down stairs on her way to work and was diagnosed with a tailbone fracture and a buttock contusion at the hospital, which will take one month for her to recover from.
Just like Asakura, Niinuma will be absent from the rest of Tsubaki Factory's spring live tour and from their upcoming musical.
Source: Hello! Project (May 8, 2019, May 16, 2019)
---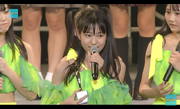 May 4, 2019 - Results of Hello Pro Kenshuusei 2019 Test Event

On May 4, the annualy public ability diagnosis test was held at Nakano Sun Plaza. In total there were 17 trainees being tested, 13 from Hello Pro Kenshuusei and 4 from Hello Pro Kenshuusei Hokkaido.
The winner of the public vote became Matsunaga Riai with 419 votes. Ishiguri Kanami won the Singing Award, Kudo Yume the Dance Award, Yamazaki Mei the Character Award, while Matsubara Yuriya won the Healing Award.
Source: Hello! Project
---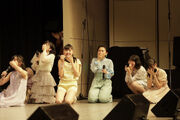 April 30, 2019 - BEYOOOOONDS to make their major debut in August

On April 30, the last day of the Heisei era, BEYOOOOONDS held the BEYOOOOONDS Ouen Kikaku FC Event 2019 ~Banshun no Jin ZIN~ at Yamano Hall.
The first part of the event was broadcasted live on LINE LIVE which started with a performance of "Megane no Otoko no Ko". In the following MC segment, the members discussed that a music video for the song had been filmed and was currently in the editing process. When the group and fans believed they were going to watch a preview of the music video, there was instead a video announcing that BEYOOOOONDS' major debut had been decided.
BEYOOOOONDS will make their major debut on August 7, 2019, becoming the first Hello! Project act to debut in the Reiwa era. Their first single will be a triple A-side featuring "Megane no Otoko no Ko" and two new unperformed tracks.
Source: Hello! Project, Pop'n'roll, natalie
Singles

Albums

DVDs/Blu-rays

Publications
Singles

Albums

DVDs/Blu-rays

Publications
Current
Upcoming

May 28, Coming Soon

May 29, Coming Soon

May 31, Coming Soon

June 4, Coming Soon
Note: All birthdays are based on JST Time.
Release Date: June 12, 2019
Release Date: June 5, 2019
Colorful Battle (Light Purple/Lavender):
RESULTS - Colorful Battle (Deep/Hot Pink):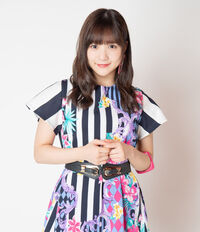 Inaba Manaka (69 votes)
Fukumura Mizuki (50 votes)
Kasahara Momona (19 votes)
Nishida Shiori (6 votes)
Related Websites
Sister Wikis
Helping out
This is an open Wiki that anyone can edit. To write a new article, just enter the article title in the box below.
For more information please visit the Helping out and Guidelines pages.