Welcome to the Hello! Project Wiki!
The wiki about Hello! Project idols that anyone can edit.
521,546 edits • 6,262 articles • 34 active users since July 6, 2008.
Morning Musume '21 |
ANGERME |
Juice=Juice |
Tsubaki Factory |
BEYOOOOONDS
(
CHICA#TETSU,
Ame no Mori Kawa Umi,

SeasoningS) |

Hello! Project
Hello Pro Kenshuusei
|
Hello Pro Kenshuusei Hokkaido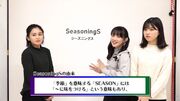 January 24, 2021 - BEYOOOOONDS new sub-unit name announced, Hirai Miyo becomes unit leader

On January 24, it was announced through the official BEYOOOOONDS YouTube channel that the three winners of the Hello! Project "ONLY YOU" Audition have finally received their long-awaited BEYOOOOONDS sub-unit name. Hirai Miyo, Kobayashi Honoka, and Satoyoshi Utano are officially members of the unit SeasoningS. It was also revealed that Hirai Miyo has been officially appointed the leader of SeasoningS.
The group name "SeasoningS" comes from "Season" as in the four seasons of the year, but also comes from "Seasoning" as in when one adds spices to their dish for flavor. These two meanings represent how the three members add a delicious flavor to their performance and add vivid colors to the group as a whole due to the skills that the members are good at.
---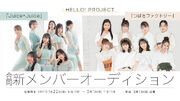 January 20, 2021 - Juice=Juice and Tsubaki Factory to hold joint new member audition

On January 20, it was announced through Hello! Project Station and the official Hello! Project website that Juice=Juice and Tsubaki Factory would be holding a joint new member audition titled Hello! Project "Juice=Juice" "Tsubaki Factory" Goudou Shin Member Audition. The audition is open to applicants as of January 22, 2021, and the application period will end on March 1, 2021. Any girl living in Japan from 6th grade elementary school to 2nd year of high school are eligible to apply. An audition website opened on January 22 with more details.
Source: Hello! Project
Era
Gen
Admins
Groups
Time as Admin
Official Color
Favorite Idol
Vision
3rd
(2014)

Rika-chan

bureaucrat, admin, rollback
6 Years, 5 Months, 10 Days

Peach
Oda
Sakura
2nd
(2013)

ElpisGalaxy

admin, rollback
7 Years, 2 Months, 6 Days

Sea Blue
Sato
Masaki
7th
(2019)

Kica

admin, rollback
1 Year, 3 Months, 18 Days

White
Akiyama
Mao
8th
(2020)

Rora

admin
0 Years, 2 Months, 26 Days

Blackberry
Uemura
Akari

Kroed

admin
0 Years, 2 Months, 26 Days

Light Red
Kominato
Miwa
Year Joined
Sub-Admins
Groups
Time as Sub-admins
Official Color
Favorite Idol
(2021)

Diamondfi

content moderator
0 Years, 0 Months, 26 Days

Mango
Dambara
Ruru

Maxi

content moderator
0 Years, 0 Months, 26 Days

Mint Blue
Goto
Maki
Era
Gen
Former Admins
Groups
Years active
Official Color
Favorite Idol
Mono
chrome
0th
(2008/
2009)

Neospaceblue

founder, bureaucrat, admin
2008-2009
N/A
N/A

Charitwo

admin
2008-2009
N/A
N/A

Hikitty

bureaucrat, admin
2009
N/A
N/A

JinKyong

admin
2009
N/A
N/A
0.5th
(2011)

SpookyVampy

admin
2011-2014
N/A
Yasuda
Kei

SweetS30

admin
2011-2014
N/A
Sayashi
Riho
Colorful
1st
(2013)

WonderBuono!

bureaucrat, admin
2013-2018

Red
Tsugunaga
Momoko
1.5th
(2013)

Nina22

admin
2013-2016

Strawberry
Suzuki
Airi
2nd
(2013)

JoshuaJSlone

bureaucrat, admin, rollback
2013-2020

Light Blue
Nakanishi
Kana
3rd
(2014)

Maopyon

admin, rollback
2014-2017

Yellow-Green
Ikuta
Erina
4th
(2016)

Pyo-kiyo

admin
2016-2020

Hot Pink
Hamaura
Ayano
5th
(2017)

AyumiFanBoy

admin
2017-2020

Blueberry
Tsugunaga
Momoko
6th
(2019)

Ookiihitomi

admin
2019-2020

Golden Yellow
Ikuta
Erina

Admin Auditions (Elections)

None

January 27, Happy Birthday!

January 30, Coming Soon

January 31, Coming Soon

February 2, Coming Soon
Note: All birthdays are based on JST Time.
Current

This is an open Wiki that anyone can edit. To write a new article, just enter the article title in the box below.
For more information please visit the Helping out and Guidelines pages.



Welcome to Hello! Project Wiki

Some of the rules:

Do not re-upload pictures that have already been uploaded or posted.
You may either add to what others have written, make revisions to something, or begin something new on the wiki.
Use correct spelling and grammar on the wiki to the best of your ability. Remember that what goes up on the wiki, goes up for the world to see.
Any factual information must be accurate. Please use references when possible.
Use appropriate language. Do not use any language that could be interpreted as mean to others.
Do not post comments in all caps.
Feel free to post what ever you want in your "User" page like other J-Pop groups you like and pictures of other artists.
Tell other people about the Wiki.
Have fun with the Wiki.
Community content is available under
CC-BY-SA
unless otherwise noted.