Hello! Project Mobekimasu (ハロー!プロジェクトモベキマス), also romanized as Hello! Project Mobecumas, was a concert unit under Hello! Project that began in 2010, following the end of Elder Club and Wonderful Hearts. It consisted of 5 major Hello! Project acts: Morning Musume, Berryz Koubou, ℃-ute, Mano Erina and S/mileage. The name comes from the 1st syllable of each of the artists names:
In 2011, Hello! Project Mobekimasu participated as a one-time special unit similar to H.P. All Stars. They released "Busu ni Naranai Tetsugaku" in November 2011.
In 2013, the concert unit was disbanded with Mano Erina's graduation from Hello! Project. Since then, there has not been an official concert unit.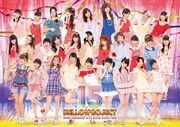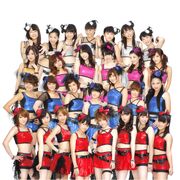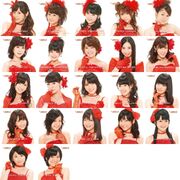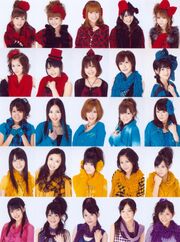 The following members were the last remaining members at the time of Mobekimasu's disbandment
Their group color was Red
Their group color was Blue
Their last group color was Yellow
Their last group color was Pink
Discography
Edit
Other Singles
Edit
Compilations / Other
Edit
DVD Releases
Edit
Group Color History
Edit
Group
Initial Color
(Jan 2010 - Aug 2011)
Single Color
(Sep 2011 - Jan 2012)
Final Color
(Feb 2012 - Feb 2013)
Morning Musume
Red
Red
Red
Berryz Koubou
Blue
Blue
Blue
℃-ute
Yellow
Pink
Yellow
Mano Erina
Pink
Gold
Purple
S/mileage
Purple
Silver
Pink
References
Edit
↑

Joined September 14, 2012
External Links
Edit