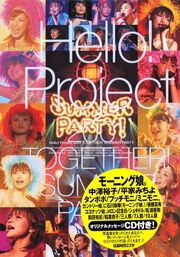 Hello! Project 2001 ~TOGETHER! Summer Party!~ (Hello! Project 2001~TOGETHER!サマーパーティー!~) was Hello! Project's annual summer concert tour, MCed by Inaba Atsuko, Makoto, and Nakazawa Yuko. It ran from July 14 to July 29, 2001, and the July 28 concert at Yoyogi National Gymnasium was released as a fanclub-exclusive VHS in November 2001.
A photobook of the concert, titled Hello! Project 2001 TOGETHER! SUMMER PARTY, was published on September 28, 2001.
An edited version of this concert was broadcast on NHK BS TV, under the title BS Special Super Live Hello! Project 2001 Natsu ~Morning Musume to Nakama-tachi (Morning Musume and Friends). It aired on August 29, 2001[1] and was later released as a video CD.
Inaba Atsuko with Country Musume performed Petitmoni's Chokotto LOVE. They are credited as Nise Petit.
Setlist / Tracklist
[
]
MC
Futari Gurashi - Nakazawa Yuko
MC
Daite HOLD ON ME! - Morning Musume
Chokotto LOVE - Nise Petit (Inaba Atsuko, Country Musume)
Happy Summer Wedding - Morning Musume
Koi no Dance Site - Morning Musume
Ren'ai Revolution 21 - Morning Musume
Encore
LOVE Machine - Morning Musume
I WISH - Morning Musume
Featured Members
[
]
Tanpopo

Iida Kaori
Yaguchi Mari
Ishikawa Rika
Kago Ai

Petitmoni

Yasuda Kei
Goto Maki
Yoshizawa Hitomi

Minimoni

Yaguchi Mari
Mika
Tsuji Nozomi
Kago Ai

Nise Petit
3nin Matsuri

Ishikawa Rika
Tsuji Nozomi
Matsuura Aya

7nin Matsuri

Yaguchi Mari
Goto Maki
Ayaka
Lehua
Asami
Shibata Ayumi
Heike Michiyo
10nin Matsuri

Iida Kaori
Abe Natsumi
Yasuda Kei
Yoshizawa Hitomi
Tsuji Nozomi
Mika
Rinne
Saito Hitomi
Murata Megumi
Otani Masae
Concert Schedule
[
]
Date
Venue
Prefecture
Doors Open
Concert Starts
7/14
Osaka-jo Hall
Osaka
13:30
14:30
17:30
18:30
7/15
13:30
14:30
17:30
18:30
7/21
Nagoya-shi Sogo Taiikukan Rainbow Hall
Aichi
17:30
18:30
7/22
13:30
14:30
17:30
18:30
7/27
Yoyogi National Gymnasium First Gymnasium
Tokyo
13:30
14:30
17:30
18:30
7/28
13:30
14:30
17:30
18:30
7/29
13:30
14:30
17:30
18:30
Trivia
[
]
This was the first Hello! Project concert tour to feature Nakazawa Yuko as a soloist.
This was the last Hello! Project concert tour to feature Sheki-Dol before they disbanded in January 2002.
External Links
[
]