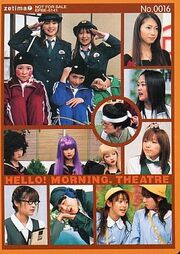 Hello! Morning Haromoni Gekijou Vol.6 "Ekimae Kouban Monogatari" (ハロー!モーニング。ハロモニ。劇場 Vol.6「駅前交番物語」) is one of a series of DVD collections of skits from Hello! Morning. It is the first include "Ekimae Kouban Monogatari" skits. The segments were originally aired from October 2003 through April 2004..
Tracklist
Edit
Opening (オープニング)
Arienai Kogyaru Tenin (ありえないコギャル店員; Unlikely Trendy Salesperson)
Arienai Kogyaru Kangofu (ありえないコギャル看護婦; Unlikely Trendy Nurse)
Kaettekita o ga Ita Rokurou (帰ってきた おが板六郎; Return of the Six Plank Sons)
Tarako no Shimai (たら子の姉妹; Tarako's Sister)
Kazunoko no Koi (かずの子の恋; Kazunoko's Love)
Sanshimai no Apaato (三姉妹のアパート; Three Sisters' Apartment)
Shirayuri Hakushakufujin no Himitsu (白百合伯爵夫人の秘密; The Secret of Countess Shirayuri)
Haromoni Ai no Gekijou (ハロモニ。愛の劇場; Haromoni Love Theater)
Hakushakufjin to Shitajitaro (伯爵夫人と下次太郎; Countess and Shitajitaro)
Futomayuge Mameko to Shirayuri Tsubomi (太眉毛豆子と白百合つぼみ; Thick Eyebrows Beanchild and White Lily Bud)
Nakazawa Fukei Kanashimi no Haru (中澤婦警 悲しみの春; Policewoman Nakazawa's Spring of Sorrow)
Seigi no Shisha Francisco Makieru (正義の使者 フランシスコ・マキエル; Emissary of Righteousness Francisco Makieru)
Tokuten Eizou (特典映像; Bonus Footage)
Ekimae Kouban Monogatari NG-shuu (駅前交番物語NG集; Ekimae Kouban Monogatari NG Collection)
Featured Members
Edit
External Links
Edit
Community content is available under
CC-BY-SA
unless otherwise noted.