Heike Michiyo
平家充代

Heike Michiyo
Name
Nicknames
Heike Michiyo (平家みちよ), Michiyo (みちよ)
Birth Info
Born
April 6, 1979
Origin
Osaka, Japan
Blood Type
B
Zodiac Sign
Aries
Professional Info
Genres
J-Pop
Occupation
Singer
Years Active
1997-present
Agency
UP-FRONT AGENCY (1997-2002)
Label
Warner Music Japan / WEA Japan (1997-2001)
zetima (2001-2002)
SWEET HYSTERIA RECORDS / One Spirit Music (2004-2005)
Associated Acts
Kiiro 5, 7nin Matsuri, Sexy 8
Links
Website
Official Web Site
Blog
Official Blog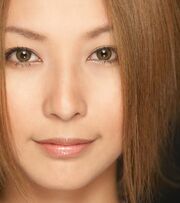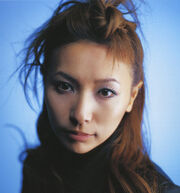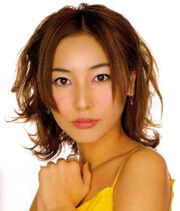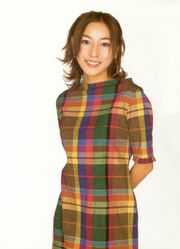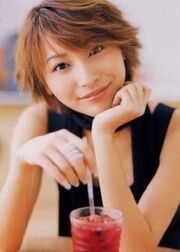 Heike Michiyo (平家充代; Hello! Project stage name, 平家みちよ), later known simply as Michiyo (みちよ), is a Japanese pop singer.
She is considered to be the first Hello! Project member due to winning the ASAYAN audition.
She left Hello! Project in 2002, and went on to become an indie soloist producing her own music.
Biography
Edit
Early Life
Edit
Heike Michiyo was born on April 6, 1979, in Nabari, Mie, Japan. She began writing songs in middle school.[1]
In 1997, an audition program called Sharam Q Josei Rock Vocalist Audition was held in association with ASAYAN.
The finale of the show took place on September 7. In the final episode, the number of girls was narrowed down to 11 from out of 9,900 applicants. All of the finalists were tasked with singing an original song, penned by Tsunku, called "GET". Heike would eventually win the whole audition despite forgetting the lyrics to the song in the final. However, plans were diverted, and Heike was given a solo career instead of joining the band.
On November 6, her first live event was held at Nippon Budokan to an audience of ten thousand people.
Starting in 1998, alongside her solo career, she hosted the reality/infotainment TV show Idol wo Sagase! together with Nakazawa Yuko until 2002.
In April, she joined the radio show Sound Planet as a regular until 2002. She also appeared as a mini regular on the television shows Taiyou Musume to Umi and Wine Musume Koi Monogatari.
On August 18, Heike made her film debut with the movie Morning Cop ~Daite HOLD ON ME!~, co-starring alongside Morning Musume. She was also featured in the film's soundtrack album.
Starting October 4, she also had her own radio show called Heike Michiyo Teenage Beat!, which lasted until the beginning of 1999.
On April 3, she started another radio show, Heike Michiyo Weekend Rendezvous to replace Heike Michiyo Teenage Beat!. This show ran for over two years before ending in September 2001.
In March, Heike participated as a member of the Hello! Project shuffle unit, Kiiro 5.
In October, she joined the late-night mini-series Bishoujo Nikki and Bishoujo Nikki 2.
In 2000, Heike was interviewed for Dreamcast Magazine, where she was asked by the interviewer whether she was bitter about the fact that Morning Musume, a group formed out of five runner-ups from the audition she won, had become a national idol group while Heike's career was not as popular in comparison. Her response was as follows:
"I have been observing the unit's progress closely, and the members have been working so hard, so I have never felt bitter. But, whenever we had the joint live concerts, most of the audience were obviously the fans of Morning Musume, and I couldn't understand why at first. I mean, I never wondered why Morning Musume was appealing, but I wondered why I couldn't get as much attention from those people. So I was performing, hoping to gain as much of their attention as I could in any way possible. My intention and the effort seemed to be paid off, for I now have a lot of steady fans who have been supporting me for 2 years. I am happy with the way it turned out."
In April, she joined the Tokyo late-night mini-series Bishoujo Kyouiku that lasted until September of the same year.
In May, she starred in the musical LOVE Century ~Yume wa Minakerya Hajimaranai~, along with Morning Musume.
In July, Heike participated in the shuffle unit 7nin Matsuri.
In October, she joined the late-night mini-series Shin Bishoujo Nikki, that lasted until March 2002.
In July, Heike participated in the shuffle unit Sexy 8.
From November 1 to 7, Heike held her last concert tour under Hello! Project, Heike Michiyo "Sotsugyou Memorial Live". She officially graduated from Hello! Project on the final day of the tour.
After her graduation, she remained out of the spotlight for a few years, before releasing her first independent album as a solo artist in 2004. The album was titled JECICA, and was released under record label Sweet Hysteria Records. She also changed her stage name to Michiyo in hiragana to re-brand herself.
The same year she held a concert called JECICA Hatsubai Kinen/Azamazaka Tour '04.
Six months later, she released a DVD titled Sweets of JECICA with three music videos and a documentary, which was only for sale through her website.
In the beginning of 2005, Michiyo released a fanclub-only single entitled "Ran・RUN・Ran", and the following month, she released her second solo album, Koimizuki. Following the album, she went on a tour called Koimizuki Hatsubai Kinen/Azamazaka Tour '05. She had another tour later the same year called Michiyo Tour 2005 "unaffected".
In July, she released her third solo album Fantasia. She had to pay for the completion of this album as the president of the company disappeared, which sent her into depression.[2]
In March, Michiyo announced on her blog that she was three months pregnant and had married the father of her child. On November 1 that same year, she gave birth to a baby girl.
2008-2013
Edit
In 2008, Heike got sick during a live performance and had to step down to take the rest she needed.
In late 2008 and early 2009 she released three talk CDs with Yoshikawa Nami, titled Nami-chan to Michiyo no KIRAKIRA ☆ TALK, which were compilations of recordings from a radio show issued by Top Brain (a publishing company that specializes on DIY and self-help merchandise like books, CDs, DVDs, interviews and articles). Yoshikawa Nammi was a motivational speaker, essayist, writer, and author who teaches the same philosophy as "Murphy's Law", but specifically catering the idea towards women, quite similar to Tony Robbins. Volume 1 was "The Women's Guide on How to Make Your Dreams Come True", Volume 2 was "The Women's Guide on How to Train Your Subconscious Brain", and Volume 3 was "The Women's Guide on How to Become Rich".
In early 2009, Michiyo was a guest in a Melon Kinenbi show, and in late 2009 she wished Taiyou to Ciscomoon good luck before their first concert in 8 years.
In 2011, Michiyo's blog was shut down.
On October 13, at 12:23 A.M., she gave birth to her second child, a son.[3]
On December 31, Heike made her first Hello! Project-related performance in 11 years at Hello!Project COUNTDOWN PARTY 2013 ~GOOD BYE & HELLO!~.
In December, Heike announced that she would be a guest at TV Tokyo's Imaichi Dakedo Happy Jinsei. She also announced she would hold a mini live called "Michiyo Acoustic Mini Live" or "Michiyo Nenmatsu Special Mini Live" at Miiya Cafe in Tokyo on the 20th. Fans who purchased a CD at the live venue got a chance to attend a handshake event afterwards. This was her first solo live show in six years.[4] According to fan reports, Iida Kaori was in the audience, as well as Saito Hitomi, Murata Megumi and Otani Masae. Heike performed the songs JECICA, Love Line, GET, Promise, RAINBOW, Shiroi Suna, Sakuseichuu no Uta (Sebinomi), Kite, and Promise.
In January, a special segment with Heike was aired on TV about her debut 17 years ago and her work up until the present. They also showed footage from her live show on the December 20, 2014.
She appeared on the Shikujiri Sensei Ore Mitai ni Naru na!! ~Shippai Jinsei! Chotto Matte 3jikan SP~ in April,[5] where she spoke about how she made her debut in front of 10,000 people, then ending up in the shadow of Morning Musume and never getting the same fame after that. One of the show segments was called "Don't Become Like Me!", in which she acted as a teacher, complaining about what is important for those working towards their goals not to fail.
She also appeared on UTAGE! in May, and made a second appearance on Shikujiri Sensei in the Shikujiri Sensei 2shuu Renzoku!! Natsuyasumi Tokubetsu Jugyou Special in August.[6]
Heike released in January 2017 snippets of some demos she's been working on; an instrumental titled "Piano", a demo song titled "Hikari", and the same demo song in a different tone "Hikari a-mero". She also posted the demo song "Tooku e Kari". She posted a similar clip in 2016, and she also performed it at her 9th Anniversary Acoustic Live.
In 2017, Heike's social media accounts were shut down after the arrest of her husband for selling counterfeit Viagra.[7]
Discography
Edit
Discography Participated In
Edit
Television
Edit
Total Sales Count
Edit
| Year | Year Sales | Total Sales |
| --- | --- | --- |
| 1997 | 70,260 | 70,260 |
| 1998 | 96,150 | 166,410 |
| 1999 | 6,230 | 172,640 |
| 2000 | 42,230 | 214,870 |
| 2001 | 22,220 | 237,090 |
| 2002 | 6,890 | 243,980 |
References
Edit
External links
Edit
Community content is available under
CC-BY-SA
unless otherwise noted.