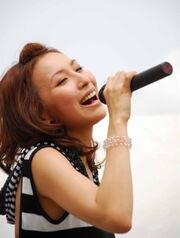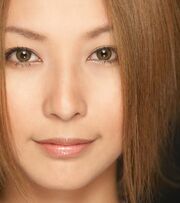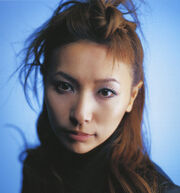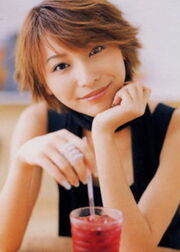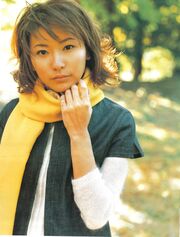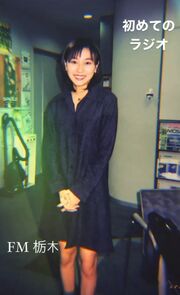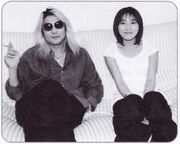 Heike Michiyo (平家充代; Hello! Project stage name, 平家みちよ), later known simply as Michiyo (みちよ), is a Japanese pop singer. She won the Sharam Q Josei Rock Vocalist Audition airing on the TV show ASAYAN from April to August 1997. She became a soloist in Hello! Project, releasing her debut single GET in November the same year. In 2002, she graduated from Hello! Project, and went on to become an indie soloist producing her own music. In July 2021 she retired from the music industry.
Biography
[
]
Early Life
[
]
Heike Michiyo was born on April 6, 1979, in Nabari, Mie, Japan. She began writing songs in middle school.[1]
In 1995 and 1996, Heike took part in ASAYAN's music auditions, applying for an idol group during the Komu-ro Garçons audition and as a vocalist in the Ranpatsu Vocal Audition. She lost both of them.[2]
1997
[
]
On May 24, 1997, Heike participated in an audition held in Osaka called Sharam Q Josei Rock Vocalist Audition.
On July 29, Heike (along with 10 other people) had made it to the second stage of the audition, and was sent to training camp to practice her singing and dancing skills.
On July 31, they performed on stage in front of an audience, dancing as a group doing a choreography they had been practicing.
On August 3, Heike had made it to the final stage and got to sing on stage in the ASAYAN studio. Heike won the audition, despite forgetting the lyrics to the song.
All of the finalists were tasked with singing an original song, penned by Tsunku, called "GET". The winner was supposed to become a singer of the band Sharam Q, however, plans were diverted, and Heike was given a solo career instead of joining the band.
On November 6, Heike's first live event was held at Nippon Budokan to an audience of ten thousand people. She sang both tracks from her upcoming debut single.
On November 7, Heike released her debut single GET.
In December, it was announced she would release a second single, a Japanese cover of The Carpenters' song "Top of the World". She travelled to the United States to meet up with Richard Carpenter.
1998
[
]
On January 11, the release date of her second single was announced on ASAYAN, set for release February 15.
On February 8, the PV first aired on ASAYAN, and on February 15, Sotsugyou ~TOP OF THE WORLD~ was released.
In March, Heike released her debut album, Teenage Dream.
In April, she joined the radio show Sound Planet as a regular until 2002. She also appeared as a mini regular on the television shows Taiyou Musume to Umi and Wine Musume Koi Monogatari.
On June 21st, the PV Daikirai aired on ASAYAN. On July 1, Heike released her third single, Daikirai.
On August 18, Heike made her film debut with the movie Morning Cop ~Daite HOLD ON ME!~, co-starring alongside Morning Musume. She was also featured in the film's soundtrack album.
Starting October 4, she also had her own radio show called Heike Michiyo Teenage Beat!, which lasted until the beginning of 1999.
On October 25, Heike released the re-cut single Dakedo Aishisugite as her fourth single. It had previously been released on the soundtrack album for the movie Morning Cop ~Daite HOLD ON ME!~.
1999
[
]
In January, Heike started hosting the infotainment show Idol wo Sagase! alongside Nakazawa Yuko.
In February, Heike released her fifth single, Anata no Yume ni Naritai. The PV was later released on the DVD for Petit Best 1.
On April 3, she started another radio show, Heike Michiyo Weekend Rendezvous to replace Heike Michiyo Teenage Beat!. This show ran for over two years before ending in September 2001.
In July, Heike released her sixth single, scene.
On August 10, Heike was an MC at Miyoshi Chinatsu's Debut Event.
In December, Heike and Nakazawa handed over the job as hosts of Idol wo Sagase! to Iida Kaori and Rinne.
2000
[
]
From February to May, Heike was a guest at T&C Bomber's CONCERT TOUR 2000 YO! YO! Taiyo-La! Muunsan no Dance Tengoku.
In March, Heike participated as a member of the Hello! Project shuffle unit, Kiiro 5.
From April, Heike wrote a monthly column in
In May, Heike released her seventh single, One Room Natsu no Koi Monogatari. This was her first release produced by Tsunku, who had taken over her career after Hatake had produced her from her debut up until now.
On August 9, Heike released her eight single, Ai no Chikara.
On August 29, Heike participated in the Yunotsu LOVE² Oosawagi Hello! Project 2000 event.
In September, Heike released her second album, For ourself ~Single History~.
In October, she joined the late-night mini-series Bishoujo Nikki and Bishoujo Nikki 2.
It was first announced that Heike would release a single titled «Dakishimerarete…» on November 22, but the release was postponed and the title later changed to Kekkyoku Bye Bye Bye.
In 2000, Heike was interviewed for Dreamcast Magazine, where she was asked by the interviewer whether she was bitter about the fact that Morning Musume, a group formed out of five runner-ups from the audition she won, had become a national idol group while Heike's career was not as popular in comparison. Her response was as follows:
"I have been observing the unit's progress closely, and the members have been working so hard, so I have never felt bitter. But, whenever we had the joint live concerts, most of the audience were obviously the fans of Morning Musume, and I couldn't understand why at first. I mean, I never wondered why Morning Musume was appealing, but I wondered why I couldn't get as much attention from those people. So I was performing, hoping to gain as much of their attention as I could in any way possible. My intention and the effort seemed to be paid off, for I now have a lot of steady fans who have been supporting me for 2 years. I am happy with the way it turned out."
2001
[
]
In February, Heike released her ninth single, Kekkyoku Bye Bye Bye.
In April, she joined the Tokyo late-night mini-series Bishoujo Kyouiku that lasted until September of the same year.
From April to November, Heike wrote a monthly column in DJ Shuukan Shigoto Hakken! called "Micchi no Virtual Worker" (みっちいのヴァーチャルワーカー). In April 2001, the column changed the title to "Heike Michiyo no Tsuredzure Naru Mama ni" (平家みちよのつれづれなるままに), and ran until November.
In May, she starred in the musical LOVE Century ~Yume wa Minakerya Hajimaranai~, along with Morning Musume.
In July, Heike participated in the shuffle unit 7nin Matsuri.
In October, she joined the late-night mini-series Shin Bishoujo Nikki, that lasted until March 2002.
In October, Heike released her tenth single, Propose.
2002
[
]
From March to June, Heike was a special guest at Matsuura Aya's concert tour Matsuura Aya First Concert Tour 2002 Haru "First Date". Heike had a talk corner, a questionnaire corner, as well as performing Murasaki Shikibu and a cover of 3nin Matsuri's Chu! Natsu Party with Matsuura and Melon Kinenbi.
In June, Heike released her 12th and final single within Hello! Project, Murasaki Shikibu.
In July, Heike participated in the shuffle unit Sexy 8.
In September, Heike participated on the charity CD Single A.R.I.G.A.T.O.U, released by CBC Radio All Stars. The sales of the CD went through the CBC Radio Charity "Save the Child! Protect the Future!" to children who are being abused.
From November 1 to 7, Heike held her last concert tour under Hello! Project, Heike Michiyo "Sotsugyou Memorial Live". She officially graduated from Hello! Project on the final day of the tour.
2003
[
]
In 2003, Heike opened her own official web site.
2004
[
]
In March, Michiyo released her first independent album as a solo artist in March. The album was titled JECICA, and was released under record label Sweet Hysteria Records. She also changed her stage name to Michiyo (みちよ) to re-brand herself.
The same year she held a concert called JECICA Hatsubai Kinen/Azamazaka Tour '04.
In September, Michiyo released a DVD titled Sweets of JECICA with three music videos and a documentary, which was only for sale through her website.
In November, Michiyo lanched her official fanclub. The member benefits were a membership card, the fan club magazine "Michiyo Shinbun" three times a year, live ticket priority, fan club travel participation right, members-only private events.[3]
2005
[
]
In January, Michiyo released a fanclub-only single entitled "Ran・RUN・Ran", and the following month, she released her second solo album, Koimizuki. Following the album, she went on a tour called Koimizuki Hatsubai Kinen/Azamazaka Tour '05. She had another tour later the same year called Michiyo Tour 2005 "unaffected".
In December, Michiyo released her first single as an independent artist, unaffected.
2006
[
]
In July, she released her third solo album Fantasia. She had to pay for the completion of this album as the president of the company disappeared, which sent her into depression.[4]
2007
[
]
In March, Michiyo announced on her blog that she was three months pregnant and had married the father of her child.[5]On November 1 that same year, she gave birth to a baby girl.
The final issue of the fan club magazine "Michiyo Shinbun" was released this year. Nine magazines were issued in total.
2008
[
]
In 2008, Heike got sick during a live performance and had to step down to take the rest she needed.[6]
In late 2008 and early 2009 Heike released three talk CDs with Yoshikawa Nami, titled Nami-chan to Michiyo no KIRAKIRA ☆ TALK, which were compilations of recordings from a radio show issued by Top Brain (a publishing company that specializes on DIY and self-help merchandise like books, CDs, DVDs, interviews and articles). Yoshikawa Nami was a motivational speaker, essayist, writer, and author who teaches the same philosophy as "Murphy's Law", but specifically catering the idea towards women, quite similar to Tony Robbins. Volume 1 was "The Women's Guide on How to Make Your Dreams Come True", Volume 2 was "The Women's Guide on How to Train Your Subconscious Brain", and Volume 3 was "The Women's Guide on How to Become Rich".
2009
[
]
In early 2009, Michiyo was a guest in a Melon Kinenbi show, and in late 2009 she wished Taiyou to Ciscomoon good luck before their first concert in 8 years.
2011
[
]
In 2011, Michiyo's blog was shut down.
2012
[
]
On October 13, at 12:23 A.M., she gave birth to her second child, a son. He was born on the same day as her mother.[7]
2013
[
]
On December 31, Heike made her first Hello! Project-related performance in 11 years at Hello! Project COUNTDOWN PARTY 2013 ~GOOD BYE & HELLO!~.
2014
[
]
In December, Heike announced that she would be a guest at TV Tokyo's Imaichi Dakedo Happy Jinsei. She also announced she would hold a mini live called "Michiyo Acoustic Mini Live" or "Michiyo Nenmatsu Special Mini Live" at Miiya Cafe in Tokyo on the 20th. Fans who purchased a CD at the live venue got a chance to attend a handshake event afterwards. This was her first solo live show in six years.[8] According to fan reports, Iida Kaori was in the audience, as well as Saito Hitomi, Murata Megumi and Otani Masae. Heike performed the songs JECICA, Love Line, GET, Promise, RAINBOW, Shiroi Suna, Sakuseichuu no Uta (Sebinomi), Kite, and Promise.
2015
[
]
In January, a special segment with Heike was aired on TV about her debut 17 years ago and her work up until the present. They also showed footage from her live show on the December 20, 2014.
She appeared on the Shikujiri Sensei Ore Mitai ni Naru na!! ~Shippai Jinsei! Chotto Matte 3jikan SP~ in April,[9] where she spoke about how she made her debut in front of 10,000 people, then ending up in the shadow of Morning Musume and never getting the same fame after that. One of the show segments was called "Don't Become Like Me!", in which she acted as a teacher, complaining about what is important for those working towards their goals not to fail.
She also appeared on UTAGE! in May, and made a second appearance on Shikujiri Sensei in the Shikujiri Sensei 2shuu Renzoku!! Natsuyasumi Tokubetsu Jugyou Special in August.[10]
In September, Michiyo opened her official instagram using the name michiyo_official.
2017
[
]
Heike released in January 2017 snippets of some demos she's been working on; an instrumental titled "Piano", a demo song titled "Hikari", and the same demo song in a different tone "Hikari a-mero". She also posted the demo song "Tooku e Kari". She posted a similar clip in 2016, and she also performed it at her 9th Anniversary Acoustic Live.
In 2017, Heike's social media accounts were shut down after the arrest of her husband for selling counterfeit Viagra.[11]
2018
[
]
In 2018, Heike visited Cairns, Australia (where her brother lives) with her children. Her brother had asked her to join his band Wa-Band on stage during a Japan Festival. She later moved there. She has been interested in the spiritual since her break-down in 2007, using tarot cards, yoga, and something she calls HSS/HSP.[12]
2020
[
]
In early november, Heike head-lined the final day of FNQ-JAPAN WEEK! singing her new single Luminous. The PV (a foto montage) aired on the Consular Office of Japan in Cairns' official YouTube account on November 8.[13]
On November 15, she released the digital single Luminous. It is her first music release since 2007.
On November 18, she teased a new song on her official instagram. It is just an instrumental for now, with Heike on piano. She also composed the song. It has the title "Hoshi" (星; Star).[14]
2021
[
]
In March, Heike opened up a new blog. She said that for a long time she couldn't face music, and started studying star reading and regained herself surprisingly. She also said it's still early days, but that she feel healed enough.[15] Her first blog posts was about the songs off her debut album after graduating from Hello! Project.
In July, Heike announced she would finish her activities as a singer-songwriter and walk a new path, focusing on raising her children and helping others. She apologizes for retiring and thanks everyone who has supported her for the last 24 years. [16]
Statement from Michiyo[17]
兄が七夕の日に送ってくれた

オーストリアの夜空。

普段見えていないだけでこれだけの星が

存在している事に圧倒されます

✴︎

Michiyoよりお知らせです。

日頃よりInstagramを見てくださってありがとうございます✨

日々過ごして行く中でセラピストという

新たな目標が見つかりました。

当初はシンガーソングライターと

同時進行しようと思っていたのですが

やはり自分の中で全く違う思考回路だと気付きました。

一度しっかり立ち止まり考えた結果

シンガーソングライターとしての活動を

終了し新しい道を歩いていこうと思います。

気づけばデビューしてから約24年の

年月が流れいて

表に出ていない時もいつでも戻れるように

無意識に気持ちを引き締めていて

この立場があるから頑張れていた自分と

この立場があるからしんどかった自分が

いつも混同していました。

自分の中で気持ちの切り替えをしっかりする為に

引退というカタチで幕を下ろさせて頂きます。

前々から応援してくださったファンの皆様には

活動がしっかり継続できなかった事を

心からお詫び致します。

✴︎

最後にLuminousという曲をreleaseできた事。

初めて自分が思い描いていた以上の世界観の

作品に仕上げて頂いて

幼い頃からソングライターの夢を持っていた自分にとって

とても満足させて頂く作品を残す事ができました。

この事が私にとって最善の結果です。

✴︎

今後はJ-POPとは違う創作や自己表現を自由にしながら

子育てと共に人のお役に立てるように

精進して参ります。

今まで私の活動にご協力してくださった皆様、

そして何より活動を応援してくださった皆様に

心から感謝致します。

本当にありがとうございました✨

✴︎

まだまだ不安が続く世の中。

このコロナ禍で色んな混乱があるかと思います。

けれどこのコロナ禍で当たり前の日常が変わってしまった分、

当たり前は当たり前ではなかった事に

誰もが気づいたのではないかと思います。

在る者•物に感謝して

自分と違う意見を批判し合うのではなく

良くすべくは共にアイディアを出し合い改善して

皆が笑顔になる社会になる事を願います。

それでは皆様のご健康とご多幸を

心よりお祈りしております。

ありがとうございました。

2021年7月10日

Michiyo

She closed her instagram account on November 5, almost twenty years (on the date) since her graduation from Hello! Project.
Profile
[
]
Name: Heike Michiyo (平家充代)
Stage Name: Heike Michiyo (平家みちよ); Michiyo (みちよ)
Nickname: Micchii (みっちぃ)
Birthdate: April 6, 1979
Blood Type: B
Western Zodiac: Aries
Eastern Zodiac: Goat
Hello! Project Status:

[1997.08.31] Member
[2002.11.07] Graduated

Hello! Project Shuffle Groups:
Hobbies: Visiting shrines, traveling abroad, writing novels, aroma, wiping the floor
Favorite Foods: Pollock roe, crab, peperoncino
Least Favorite Foods: Celery
Favorite Words: Confidence, charm
Favorite Places: Home, Los Angeles, Hawaii, places where it's sunny
Favorite Brands: Justin Davis, Cartier, VelVet Stone, Play boy
Favorite Songs: true colors (Cyndi Lauper), Gangsta's Paradise (Coolio), You Gotta Be (Des'ree), Habanera (Bizet), Vltava (B. Smetana), Concerto for Two Violins (Bach)
Looks Up To: Johann Sebastian Bach
Personal Life
[
]
Heike has (at least) one brother (Toyoki). She also has two children; one daughter and one son.
Discography
[
]
Main article: Heike Michiyo/Discography
As Michiyo (independent)
Tooku e (遠くへ) (Sung live at "Michiyo ~9th Anniversary Acoustic Live~")
CRYSTAL SKY (Sung live at "Michiyo 11th Anniversary Acoustic Live ~CRYSTAL SKY~")
story (Sung live at "Michiyo 11th Anniversary Acoustic Live ~CRYSTAL SKY~")
Tonari (Kari) (トナリ (仮)) (Revealed from a Tweet she posted on November 10, 2014 stating she discovered a list of songs from a a few years ago)
DVDs
Talk CDs
[2008.11.05] Nami-chan to Michiyo no Kirakira☆Talk Vol. 1 (なみちゃんとみちよのキラキラ☆トーク VOL.1)
[2009.01.05] Nami-chan to Michiyo no Kirakira☆Talk Vol. 2 (なみちゃんとみちよのキラキラ☆トーク VOL.2)
[2009.03.05] Nami-chan to Michiyo no Kirakira☆Talk Vol. 3 (なみちゃんとみちよのキラキラ☆トーク VOL.3)
Publications
[
]
Magazines
[
]
Works
[
]
Movies
[
]
TV Programs
[
]
Theater
[
]
Radio
[
]
Trivia
[
]
Total Sales Count
[
]
| Year | Year Sales | Total Sales |
| --- | --- | --- |
| 1997 | 70,260 | 70,260 |
| 1998 | 96,150 | 166,410 |
| 1999 | 6,230 | 172,640 |
| 2000 | 42,230 | 214,870 |
| 2001 | 22,220 | 237,090 |
| 2002 | 6,890 | 243,980 |
References
[
]
External links
[
]
Heike Michiyo
Units & Other Acts
Associated Acts