Hashimoto Momoko (橋本桃呼) is a Japanese idol as a 2nd generation member of Last Idol.[1] She is also a former member of Hello Pro Kenshuusei under Hello! Project.[2]
Hashimoto first joined Hello Pro Kenshuusei after failing the Hello! Project Shin Member Audition in December 2017 and left after only four months in the program.[3] She was later a challenger on the Last Idol season 3 in August 2018 and won the battle to become the No.1 Temporary Member.[4] She became an official 2nd generation member on September 29, 2018[1] and remained with the group until their disbandment on May 31, 2022.[5]
She is currently a regular member on Yamaguchi Asahi Broadcasting's Saturday morning program "Doki Nama Live"
Biography
[
]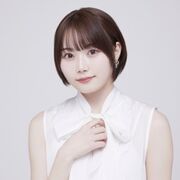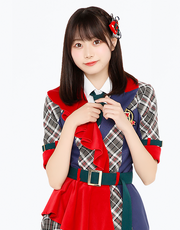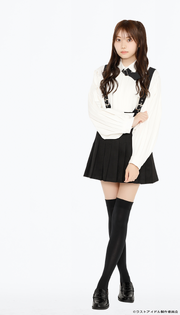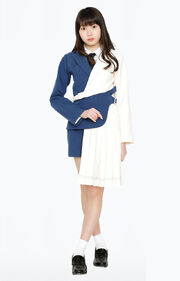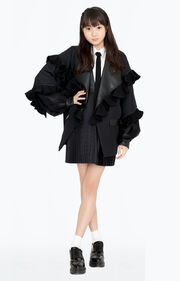 Early Life
[
]
Hashimoto Momoko was born on June 28, 2003 in Yamaguchi, Japan.
2017
[
]
Hashimoto took part in the Alice Project audition for Cerisier, a new unit under the same agency as Kamen Joshi, but failed.
Over the summer, Hashimoto participated in the Hello! Project Shin Member Audition for a chance to join Hello! Project in commemoration of its 20th anniversary, and made it to the finals alongside seven others before it was ultimately decided that no one would pass the audition.[6][7]
Following the audition, Hashimoto accepted an invitation to join Hello Pro Kenshuusei and she was introduced alongside Goto Sayaka, Tamenaga Shion, Kubota Nanami, Shutto Anna, Kanemitsu Ruru and Matsubara Yuriya at the Hello! Project Kenshuusei Happyoukai 2017 12gatsu ~Conti→New!~ show on December 10,[2] where they performed a dance cover of "Jealousy Jealousy" together.
2018
[
]
On April 23, it was announced that Hashimoto had completed her training and therefore left Hello Pro Kenshuusei.[3] It became difficult for her to keep commuting from Yamaguchi to attend lessons in Tokyo when she had five siblings and there was no guarantee she would debut. Since she was also in her last year of middle school, her mother told her it might be better to focus on exams. At that point, Hashimoto had thought of giving up on the entertainment world.[8]
However, she later saw the recruitment for Last Idol season 3, which stated that transportation expenses would be covered, and she told her mother this would be her last chance. With her family's encouragement not to give up on her dream of becoming an idol, she applied.[8]
On August 11, Hashimoto was revealed as a challenger in Last Idol season 3, in which 12 temporary members had to defend their position from challengers in order to debut as 2nd generation members at the end.[9] Hashimoto came out as one of the top three challengers during a three-day and two-night training camp,[10] allowing her to challenge Shinohara Nozomi for her position as the No.1 Temporary Member.
In episode 16 of Last Idol broadcasted on August 25,[11] Hashimoto choose to perform Kobushi Factory's "Ashita Tenki ni Naare" in her battle against Shinohara[12] and successfully replaced her as the No.1 Temporary Member.[4]
On September 29, in the last episode of Last Idol season 3, she was chosen to battle the final challenger Shiraishi Mana, and Hashimoto won with her performance of former AKB48, HKT48 & STU48 member Sashihara Rino's "Soredemo Suki da yo".[13] She officially debuted as a 2nd generation member of Last Idol[14][1] and would perform as double centers with No.2 member Mizuno Mai for their debut single "Ai Shika Buki ga nai".[15] The next day she opened an official Twitter account.[16]
2019
[
]
On August 11, it was announced Hashimoto would star in Yuenchi Meshi, SKY PerfecTV!'s 27th Twitter morning drama series that would be posted every day from August 19 to August 24.[17]
2021
[
]
In the fall, Hashimoto was selected as one of the winners of the youtube-based song battle election and earned a featured role in the Last Idol release Break a leg!.
2022
[
]
On March 9, it was announced that Last Idol would on May 31.[5] Hashimoto graduated with the rest of Last Idol.
On April 16, Hashimoto announced that she would be joining the Saturday morning program "Doki Nama Live" as a regular member.[18]
Personal Life
[
]
Profile
[
]
Name: Hashimoto Momoko (橋本桃呼)
Nicknames: Momo-chan (桃ちゃん), Hashimocchan (はしもっちゃん)
Birthdate: June 28, 2003
Blood Type: AB[4]
Western Zodiac: Cancer
Eastern Zodiac: Goat
Hello! Project Status:
UP-FRONT PROMOTION Status:

2017-12-04: Member
2018-04-23: Left

Groups:
Special Skills: Ballroom dancing, mimicry
Hobbies: Reading, collecting squeeze toys
Charm Point: Her eyes
Favorite Music Genre: J-pop
Favorite Sports: Competitive dancing
Favorite Food: Dried squid, umeboshi
Favorite Color: Sakura-color
Motto: "One for all, all for one"
Looks Up To: Inoue Rei, Tsugunaga Momoko[1]
Discography Featured In
[
]
Last Idol
[
]
Albums
[2022.04.27] Last Album (ラストアルバム)
Singles (A-Sides)
[2018.12.05] Ai Shika Buki ga nai (愛しか武器がない)
[2019.04.17] Otona Survivor (大人サバイバー)
[2019.09.11] Seishun Train (青春トレイン)
[2020.11.24] Nanbito Mo (何人も)
[2021.04.28] Kimi wa nan Kyaratto? (君は何キャラット?)
[2021.11.12] Break a leg!
Works
[
]
TV Programs
[
]
[2018] Last Idol (ラストアイドル) (season 3)
Web Dramas
[
]
[2019] Yuenchi Meshi (遊園地めし; Amusement Park Meal) (SKY PerfecTV! Twitter)
Internet
[
]
Trivia
[
]
She auditioned for Hello! Project because she wanted to get into show business. She kept failing auditions but never gave up and kept trying.
Her older sister was a fan of S/mileage, and she learned about Hello! Project through her, but she didn't become a fan herself until relatively recently when she discovered Kobushi Factory.
Her older sister lists Kudo Haruka, Oda Sakura, Makino Maria, Tamura Meimi, Katsuta Rina, Takeuchi Akari, Wada Ayaka, and Nakanishi Kana among her favorites.
She likes her grandmother's dried squid snacks.
Okai Chisato said Hashimoto Momoko reminds her of Murakami Megumi. She resembles the strong image that Megumi had.
Her height to head ratio is 8.
She has the same last name as THE Possible member Hashimoto Aina, former Hello Pro Kenshuusei member Hashimoto Nagisa, and Hello Pro Kenshuusei Hokkaido member Hashimoto Ririka.
References
[
]
External Links
[
]
Hello Pro Kenshuusei
Members
Current Members
Former Members
Concerts & Events
Shinjin Kouen Concerts
Happyoukai Concerts

2011
2012
2013
2014
2015
2016
2017
2018
2019
2020
2021
2022
Test Events

Other
Units & Other Acts
Sub-Units & Groups
Debuted Acts
Associated Acts
Related Acts