HEY! Mahiru no Shinkirou (HEY!真昼の蜃気楼; HEY! A Midday Mirage) is the 8th and final single by T&C Bomber. It was released on July 19, 2000. The single peaked at #31 on the Oricon weekly charts and sold 18,440 copies.
This song was featured in the movie "Country Girl Hokkaido Bokujo Monogatari", in which T&C Bomber had a guest appearance.
Tracklist
[
]
HEY! Mahiru no Shinkirou
Kawaii Hito (かわいい男性; My Cute Darling)
HEY! Mahiru no Shinkirou (Instrumental)
Featured Members
[
]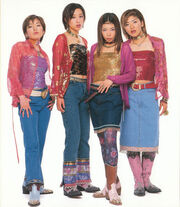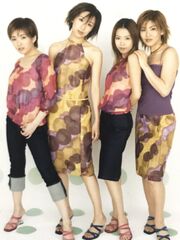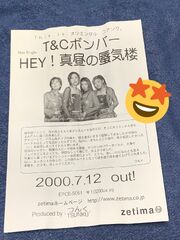 Single Information
[
]
All Lyrics & Compositions: Tsunku
HEY! Mahiru no Shinkirou
Arrangement, Other Instruments, Voice:

Matsubara Ken

Bass:

Yamazaki Hiroshi

Strings: Gen Ittetsu Strings
Sitar:

Wakabayashi Tadahiro

Chorus: T&C Bomber, Tsunku
Music Video: Inoue Tetsuo (Director), Suehiro Tetsushi (Producer)
Kawaii Hito
Arrangement, Guitar, Programming: Suzuki Shunsuke
Acoustic Bass:

Mizutani Hiroaki

Chorus: Tsunku
TV Performances
[
]
Concert Performances
[
]
HEY! Mahiru no Shinkirou
Kawaii Hito
Trivia
[
]
Tsunku described this song as "oriental funk".
Some releases came with a flyer for original T&C Bomber goods.
Interview
[
]
Interview
Tsunku's comments about the single:
[1]
"'HEY! Mahiru No Shinkirou' 'This Is Oriental Funk' This is a sexy dance beat that they haven't sung for a long time. I arranged lots of oriental flavor into the sound. The girls have experienced a wide variety of sounds, and I set the goal for this album pretty high for them. I am very happy for their ability to deliver the "soulfulness" that I wanted to express. Shinoda's shout, Inaba's fast-paced singing style, RuRu's powerful vocal, and Kominato's unique arrangement are to me, all satisfactory. Arranged by Matsubara Ken, whose popularity is increasing in a rapid speed, the song was completed with a beautiful mixture of intensity and elegance. I think the girls had lots of fun singing this song. Please enjoy."
References
[
]
External Links
[
]