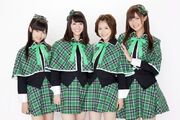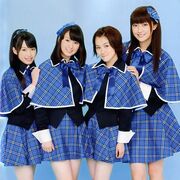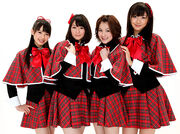 Guardians 4 (ガーディアンズ 4) was a Hello! Project unit consisting of Mitsui Aika from Morning Musume, Kumai Yurina and Sugaya Risako from Berryz Koubou, and Nakajima Saki from ℃-ute.
Guardians 4's purpose was to sing the opening theme songs for the anime Shugo Chara!, the anime that Hello! Project units Buono! and Shugo Chara Egg! had also performed opening and ending songs for.
Members
[
]
History
[
]
In March 2009, it was announced that a new unit would be in charge of the theme songs for Shugo Chara! Doki starting in April. Guardians 4 was officially unveiled on the website on April 3.[1]
On February 14, 2010, Guardians 4 ended activities after performing "Arigatou ~Ookiku Kansha~" with Shugo Chara Egg! and Buono! at the release event for "Going On!". On March 27, 2010, the final episode of Shugo Chara! Party aired, effectively disbanding the group.  
On January 1, 2014, Guardians 4 briefly reunited to perform "PARTY TIME" at the Hello! Project COUNTDOWN PARTY 2013 ~GOOD BYE & HELLO!~. Later, they briefly reunited without Mitsui Aika to perform "PARTY TIME" at the Berryz Koubou Matsuri. 
Discography
[
]
Singles
[
]
Albums
[
]
DVDs
[
]
Compilations
[
]
Trivia
[
]
Like Shugo Chara Egg!, the four members of the group wear costumes inspired by the anime. In this case the costumes are based on the school uniform of Seiyo Academy, a key location in the series. The "royal capes" are worn by the "guardians" of the school, the student council, hence "Guardians 4." Each of the members wear the same color, although the color changes with each single released.
In addition to the royal capes, the unit wears boots similar to Fujisaki Nadeshiko, one of the guardians in the anime. They also wear large ribbons on the capes which are similar to Yaya Yuiki, another guardian in the series.
Their first two singles were used as the fifth and sixth openings for the anime Shugo Chara!. Their third and fourth singles were used as the two openings to Shugo Chara! Party.
Gallery
[
]
References
[
]
External Links
[
]
Guardians 4
Discography
Singles
Albums
DVDs
Units & Other Acts
Associated Acts