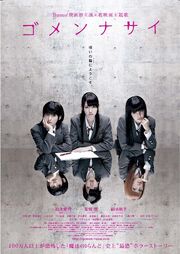 Gomennasai (ゴメンナサイ; I'm Sorry), released in English-speaking territories as Ring of Curse, is a 2011 horror film, based on a cell phone novel of the same name, starring the members of Buono!. It was released in theaters on October 29, 2011, and on DVD on February 8, 2012. The Buono! song DEEP MIND was used as the ending theme of the movie.
The film was directed by Asato Mari.
Cast
Suzuki Airi as Hidaka Yuka
Natsuyaki Miyabi as Kurohane Hinako
Tsugunaga Momoko as Sonoda Shiori
Sagara Itsuki (相楽樹) as Chiharu
Matsumura Riko (松村理子)
Komiya Arisa (小宮有紗) as Fujita Yoko
Ishida Karen (石田佳蓮)
Nagase Chihiro (永瀬千裕)
Kita Yoko (喜多陽子)
Isogai Nami (磯貝奈美)
Iwasaki Ayame (岩崎あやめ)
Yamazaki Taiki (山崎大輝)
Ogawa Takeru (小川尊)
Miyashita Tomomi (宮下ともみ) as female teacher
Nakahara Shoko (中原翔子)
Kawatsure Hiroaki (川連廣明)
Trailer
External Links
Community content is available under
CC-BY-SA
unless otherwise noted.