GREEN FIELDS was a Hello! Project unit consisting of Shimizu Saki from Berryz Koubou, and soloists Mitsui Aika and Miyazaki Yuka. The group was created in October 2012 alongside Harvest for the SATOYAMA movement.
Members
[
]
History
[
]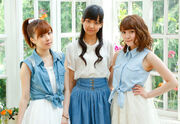 2012
[
]
GREEN FIELDS was formed in October 2012 and they performed their debut single "Boys be ambitious!" at Morning Musume 15th Anniversary Concert Tour Fall 2012 on October 28.
On November 7, GREEN FIELDS' debut single was released, the MV was uploaded to YouTube on November 15.
On November 11, GREEN FIELDS took part in the first SATOYAMA movement fanclub bus tour titled SATOYAMA Higaeri Bus Tour in Hitachiota.
2013
[
]
GREEN FIELDS participated in the Hello! Project Tanjou 15 Shuunen Kinen Live Winter 2013 ~Viva!~ and ~Bravo!~.
On April 3, GREEN FIELDS released their major debut single "Tokainaka no Kare".
In early June, GREEN FIELDS and Peaberry held their second SATOYAMA fanclub bus tour titled SATOYAMA Taiken Tour Dai 2 dan! Peaberry, GREEN FIELDS to Sugosu 1-paku 2-nichi Bus Tour in Hitachiota. The tour got a fanclub-exclusive DVD release in late October.
2016
[
]
In March 2016, GREEN FIELDS's profile was deleted from the SATOYAMA movement official website.
Discography
[
]
Singles
[
]
Indies
[
]
[2012.11.07] Boys be ambitious! / Forefore ~Forest For Rest~ (Boys be ambitious!/フォレフォレ~Forest For Rest~) - with DIY♡
[2013.04.03] Tokainaka no Kare (都会田舎の彼)
DVDs
[
]
Trivia
[
]
External Links
[
]
SATOYAMA & SATOUMI movement
Discography
Singles
Albums
DVDs
Publications
TV Programs
Events
Spring Events
Fall Events
Other Events
Bus Tours
Auditions
Participants
Hello! Project
UP-FRONT CREATE
J.P ROOM
Other UP-FRONT GROUP