GOOD BYE Natsuo (GOOD BYE 夏男; Good Bye Summer Boy) is the 10th single from Matsuura Aya. It was released on June 4, 2003 under Zetima. It sold 57,836 copies in its first week and 88,483 copies total. The single V for the single sold 28,482 copies total.
On the day of the release, a DVD (EPBE-5077) and VHS video (EPVE-5077) with the music video was also released. The DVD contains an alternate multi-channel DTS surround sound audio track for the music video, besides the regular stereo LPCM audio track.
GOOD BYE Natsuo
Watakushi no Yotei (私の予定; My Plans)
GOOD BYE Natsuo (Instrumental)
GOOD BYE Natsuo
GOOD BYE Natsuo (WILD Ayaya Ver.)
making-of featurette & interview(s)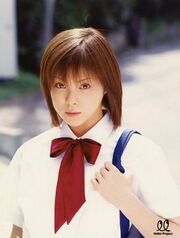 All Lyrics and Compositions: Tsunku
GOOD BYE Natsuo
Watakushi no Yotei
[2003-05-25] Domoto Kyoudai
[2003-05-26] Hey! Hey! Hey! Music Champ
[2003-05-29] Utaban
[2003-xx-xx] BS Junior
[2003-06-09] Pop Jam
[2003-08-24] 24 Hour TV
[2003-12-17] Best Artist 2003
[2003-12-20] Japanese Cable Grand Prix
[2003-12-31] CDTV
GOOD BYE Natsuo
Community content is available under
CC-BY-SA
unless otherwise noted.