Futari no Hokkaido (二人の北海道; Hokkaido for Two) is Country Musume's debut single, released on July 23, 1999. It was released in limited quantities as an indies single in Hokkaido only. Copies of the single came with a red sticker with the catalog number and the text "Hokkaido gentei seisanhin" (北海道 限定生産品; Hokkaido restricted production merchandise). Although it is an indie release limited to Hokkaido, it was sold out because many music fans mourned the tragedy of the members at the beginning of the sale, and there was a great response, so at some record stores in Sapporo City it sold out after one hour on the release date[1]. Then, due to a flood of inquiries from all over the country, it was decided to accept orders at record stores across the country[2], and by 1999, it had recorded 20,000 hits[3].
The title track appears on the albums Country Musume Daizenshuu ①, Country Musume Daizenshuu 2 and Country Musume Mega Best.
Tracklist
[
]
Futari no Hokkaido
Morning Gyuunyuu (モーニング牛乳; Morning Milk)
Futari no Hokkaido (Instrumental)
Featured Members
[
]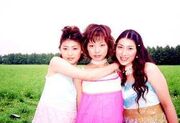 Single Information
[
]
Futari no Hokkaido
Morning Gyuunyuu
Lyrics and Composition: Tsunku
Rap Lyrics and Arrangement:

Shitamachi Kyoudai
Performances
[
]
Concert Performances
[
]
Futari no Hokkaido
Event Performances
[
]
Futari no Hokkaido
Morning Gyuunyuu
Trivia
[
]
This is the only single to feature the original three-member lineup; one week before the release, on July 16, 1999, Yanagihara Hiromi was killed in a car accident. Yanagihara's family was given the decision as to whether Country Musume should continue their work and release the single as scheduled, to which they approved.
Just a month after the release, Kobayashi Azusa decided to leave the group due to psychological stress. It was speculated that she left because a nude photo of her from the past was posted in a weekly magazine causing some controversy, and in order to take full responsibility, she decided to leave the group.
The "Futari no Hokkaido" music video was filmed at the Hanabatake Ranch in Nakasatsunai. The ranch, owned by their producer

Tanaka Yoshitake

, was also where the group worked and practiced choreography.
The single was released the same day as Coconuts Musume's debut single, Halation Summer.
"Morning Gyuunyuu" is a country version of Morning Musume's debut single Morning Coffee with different lyrics and a different arrangement.
Gallery
[
]
References
[
]
External Links
[
]
Country Musume
Members
Former Members
Borrowed Members
Concerts & Events
Concerts
Units & Other Acts
Associated Acts