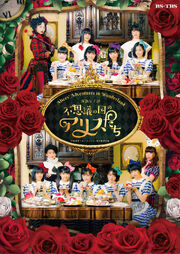 Fushigi no Kuni no Alicetachi (不思議の国のアリスたち; Alices' Adventures in Wonderland) was the first Engeki Joshibu musical starring BEYOOOOONDS. It ran from April 19 to April 29, 2019 at Zenrosai Hall/Space Zero in Shinjuku.
The DVD was released on July 26, 2019 for fanclub and UP-FRONT WORKS Web Store pre-orders,[1][2][3] and it was released for general sale on August 7, 2019.
One girl loses her way into Wonderland after chasing a white rabbit.
There she meets the Queen of Hearts, the Playing Card Soldiers, and Alices...?!
"I'm the real Alice!"
Nine Alices begin a fierce battle over who gets the rightful place as Alice the heroine of Wonderland!
BEYOOOOONDS lead their first stage production in which singing, dancing, juggling, and magic are interwoven!!
It's a mysterious fantasy performance show!
From BEYOOOOONDS
CHICA#TETSU
Ame no Mori Kawa Umi
Hello! Project "ONLY YOU" Audition Winners
From Engeki Joshibu
Others
Script, Director: Ota Yoshinari
Music: Wada Shunsuke
Choreography: YOSHIKO
Narration: Iikubo Haruna[14]
Stage Director: Nishikawa Yasushi (Hakouma Kenkyuujo)
Set Design: Tanaka Toshie
Lighting: Sekiguchi Yuji (balance,inc.DESIGN)
Sound: Yuriyama Masato (SE System)
Costumes: Suzuki Mike
Assistant Director: Uematsu Conan (Kurashi)
Arrangements, BGM Production: Iwanaga Mana
Singing Teacher: Niira Etsuko
Producer: Niwa Tamon Andrew (BS-TBS)
Organization, Planning, Production: BS-TBS, Odyssey
Soundtrack
Edit
Engeki Joshibu "Fushigi no Kuni no Alicetachi" Original Soundtrack

Soundtrack by

BEYOOOOONDS

Native title
演劇女子部「不思議の国のアリスたち」オリジナルサウンドトラック
Released
April 19, 2019 (Venue)
May 29, 2019 (General)
Format
CD
Label
UP-FRONT WORKS
The original soundtrack for the musical was released at the venue on April 19, 2019 and released for general sale on May 29, 2019.
Tracklist
Edit
Fushigi no Kuni no Alicetachi (不思議の国のアリスたち; Alices' Adventures in Wonderland) - BEYOOOOONDS
Minna Rival (みんなライバル; Everyone is a Rival) - BEYOOOOONDS
Watashi no Philosophy (私のフィロソフィー; My Philosophy) - CHICA#TETSU
Tsudzuiteiru (続いている; Continuing On) - Ame no Mori Kawa Umi
Information
Edit
Daily & Weekly Rankings
| Mon | Tue | Wed | Thu | Fri | Sat | Sun | Week Rank | Sales |
| --- | --- | --- | --- | --- | --- | --- | --- | --- |
| - | - | - | - | - | - | 1 | 24 | 2,200 |
| 10 | - | - | - | - | - | - | 100 | 488 |
Total reported sales: 2,688
DVD Tracklist
Edit
Yuhane (ユハネ)
Alice ga Juutai (アリスが渋滞; Alice Congestion)
Joou no Audition (女王のオーディション; The Queen's Audition)
Yobina (呼び名; Nicknames)
Audition Setsumei (オーディション説明; Explanation of the Audition)
1st Audition (1st オーディション)
Hikaeshitsu Report (控室レポート; Waiting Room Report)
Minna Rival (みんなライバル; Everyone is a Rival)
An no Yowasa (アンの弱さ; An's Weakness)
2nd Audition (2nd オーディション)
Omoi Kuuki (重い空気; Heavy Atmosphere)
Wonderland no Himitsu (ワンダーランドの秘密; Secrets of Wonderland)
Shinjiru Mono ~ Honto no Watashi (信じるもの~ホントのわたし; What I Truly Believe In)
Mint no Uragiri (ミントの裏切り; Mint's Betrayal)
Watashi ga Alice ni Naru! (わたしがアリスになる!; I Will Become Alice!)
Watashi no Shuyaku (わたしの主役; My Lead Actress)
Yuujou no Hoop (友情のフープ; Hoop of Friendship)
Epilogue (エピローグ)
This is the first Engeki Joshibu production to feature Hirai Miyo, Kobayashi Honoka, and Satoyoshi Utano.
The CHICA#TETSU and Ame no Mori Kawa Umi members, who portray the nine Alices, wear ribbons in their respective member colors.
The audience was allowed to use penlights during one part of the main story.[6]
Ikuta Erina, Iikubo Haruna, Ishida Ayumi, Oda Sakura, Nonaka Miki, Haga Akane, Kaga Kaede, Yokoyama Reina, and Morito Chisaki came to watch the musical on April 24.[15]
Fukumura Mizuki, Makino Maria, Dambara Ruru, and Tsubaki Factory came to watch on April 25.[16]
References
Edit
External Links
Edit
Community content is available under
CC-BY-SA
unless otherwise noted.