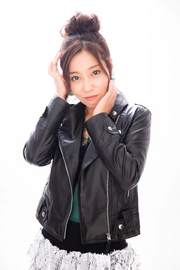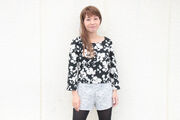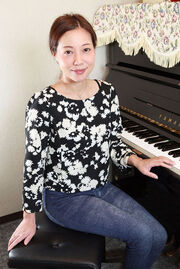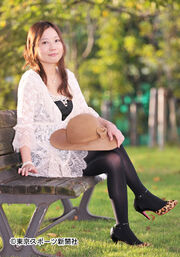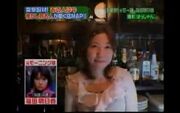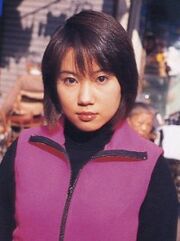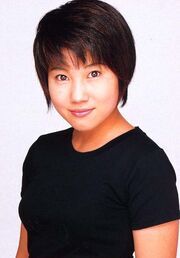 Fukuda Asuka (福田明日香) is a Japanese singer, actress and former vocal coach. She is a former idol under Hello! Project as a founding member of Morning Musume. Later, she was also a part of the reunion group Morning Musume 20th.
Fukuda graduated from Morning Musume in 1999, and didn't return to music until 2011 as a member of the band PEACE$TONE under the name asuka. They went on hiatus in 2020, and Fukuda continued as a solo act still using the name asuka.
Biography
[
]
Early Life
[
]
Fukuda Asuka was born on December 17, 1984 in Tokyo, Japan .
From an early age, she was influenced by music-loving parents. She grew up listening to music of various genres. She has been learning piano and ballet since she was three years old.
1997
[
]
On May 3, 1997, Fukuda participated in an audition held in Tokyo called Sharam Q Josei Rock Vocalist Audition, at only 12 years old.
On July 29, Fukuda (along with 10 other people) had made it to the second stage of the audition, and was sent to training camp to practice her singing and dancing skills.
On July 31, they performed on stage in front of an audience, dancing as a group doing a choreography they had been practicing.
On August 3, Fukuda had made it to the final stage and got to sing on stage in the ASAYAN studio. She lost to Heike Michiyo.
On August 20, Fukuda, along with Nakazawa Yuko, Ishiguro Aya, Iida Kaori, and Abe Natsumi, had been invited back to the ASAYAN studio. They had a meeting with Sharam Q and a producer asking them if they wanted to debut as a group on the condition of selling 50.000 copies of a single within five days.
On September 7, Tsunku named the group Morning Musume, and they started voice training, shoot the CD cover for their indies single Ai no Tane, recorded the song, recorded and released the PV before embarking on the task in November.The quintet accomplished that task on November 30, after just 4 days.[1][2]
In December, Morning Musume started recording three songs, where one of them would be released as their debut single in January.
1998
[
]
On January 28, Morning Musume released their major debut single, Morning Coffee.
On August 18 1998, Fukuda appeared in the film "Morning Cop," with Heike Michiyo and the rest of Morning Musume..
1999
[
]
On January 17, Fukuda announced on ASAYAN that she would graduate from the group.
On April 18, she graduated from the group, having the shortest tenure of all members of Morning Musume with only 1 year and 7 months. She stated the reason she graduated was to focus on her studies.
On May 17, she released an essay book titled "Mou Hitori no Asuka".
2002
[
]
Graduated from Tokyo Metropolitan Oyamadai High School at the age of 17.[3]
2005
[
]
In 2005, she was working as an assistant at her father's nightclub, Philippine, in Tokyo.
2006
[
]
In 2006, she was featured on the television show "Kaikan MAP," where it was revealed that she was working as a vocal coach and as a bartender at her parent's nightclub. There were rumors about her returning to a musical career, but she mentioned that she doesn't want to go back to the world of show business and kept a very low profile.
2011
[
]
On February 14, Fukuda, with TERRA and Yaman Chang, formed a band called PEACE$TONE. It is a mixed male/female vocal group, going by the slogan "a circus of sounds". They operate mainly out of Tokyo, and are signed to the record company Osechi Records with STONE Project as their label.
2015
[
]
On April 16, it was announced that Asuka was married, and pregnant with her first child.[4]
2016
[
]
On February 14, she gave birth to a healthy daughter.[5]
2017
[
]
In April and May, Fukuda held three live radio sessions for her radio show asuka no Kimagure Radio, called Otona no Kyuujitsu Kurabu vol. 1 and vol. 2 (held at Jyugaoka Mardi Gras) and Otona no Kyuujitsu Kurabu vol. 3 (held at music bar CODA).[6]
On June 29, Fukuda appeared on TV for the first time in 18 years on the TV show "Jikkuri Kitarou Star Kinkyou (Hi) Houkoku" (じっくり聞いタロウ〜スター近況(秘)報告〜). She did a performance of Morning Musume's "Summer Night Town".[7]
On July 23, Fukuda announced that she and her husband had divorced in July 2016, four months after the birth of their first child. According to Fukuda, the divorce was the result of the couple's conflicting values and parenting styles.[8]
On November 1, Fukuda was revealed to be a member of a special Morning Musume anniversary unit named Morning Musume 20th that would sing "Ai no Tane (20th Anniversary Ver.)". This was Fukuda's first Morning Musume-related activity in 18 years since her graduation.[9]
On November 17, Fukuda became the ambassador of Malay Chang (マレーチャン), a Malaysian restaurant.
On December 22, Fukuda announced she will be making her solo debut in 2018.
On December 25, Nikkan Gendai interviewed Fukuda. She said "I don't really know why I quit right away, but I auditioned as a rock vocalist in the first place. I never dreamed of becoming an idol. I guess I didn't know how to get used to it. It's hard to lose your private life."[10]
2018
[
]
On January 28, Fukuda appeared at the Hello! Project concert "Hello! Project 20th Anniversary!! Hello! Project 2018 WINTER ~FULL SCORE~" as part of the anniversary unit Morning Musume 20th.
On February 14, Fukuda released the digital single "Never Forget / Minna Tabibito", the first being a re-recording of Morning Musume's "Never Forget" and the second a song from PEACE$TONE's album Door's ~Toki no Tabibito~.
On March 14, Fukuda released her debut album Sing.
On March 17, a live event was held at Tsurumi GIGS called "Singx3". Fukuda was accompanied by her band PEACE$TONE as well as the band THETAΘ.
On March 31, Fukuda appeared at the Hello! Project concert Hello! Project 20th Anniversary!! Hello! Project Hina Fes 2018 as part of the anniversary unit Morning Musume 20th.
2019
[
]
On November 22, Fukuda did an exhibition at Musashi Kosugi "Lucida". Fan items from her time in Morning Musume was on display, and she signed copies of her solo debut album. Fukuda also interacted with fans who came from an ANGERME event.[11][12]
2020
[
]
On February 13, Fukuda took part in an event at Osaka Americamura Beyond called "Idol Meeting Valentine Edition".[13]
On March 1, she opened a new blog[14].
On March 27, she opened a YouTube Channel.[15]
On April 1, Kawashima Kazuya released the single "Precious" feat. Fukuda Asuka.
On April 10, PEACE$TONE went on an indefinite hiatus.[16]
On June 19, Fukuda released her first solo photobook, "PASSIONABLE".
2021
[
]
In August, Inaba Atsuko apeared as a special guest on Fukuda's YouTube Channel Fukuda Asuka no chill time.[17] They announced Fukuda's live event Asuka Fukuda Sunset party vol.1 for which Inaba and her band (S)pirit color would appear as special guests. However, the event was ultimately canceled due to the COVID-19 pandemic.[18]
On August 26, Stone Project announced the termination of Fukuda's contract in a post on her official blog.[19]
On November 22, Fukuda celebrated Couples' Day (ii fuufu no hi) by revealing that she has remarried to someone who supported her while struggling through an illness.[20][21] She has not yet disclosed her partner's name or the nature of her illness.
2022
[
]
On April 22, Fukuda announced she had divorced the man she married in November 2021.[22]
Profile
[
]
Name: Fukuda Asuka (福田明日香)
Stage Name: asuka (2011-present)
Nickname: ♀asuka, Asukacchi
Birthdate: December 17, 1984
Blood Type: B
Height: 149 cm (4 ft 10.6 in)

?

Western Zodiac: Sagittarius
Eastern Zodiac: Rat
Hello! Project Status:

1997-09-07: Member
1999-04-18: Graduated

Hello! Project Groups:
Other Groups:
Hobbies: Jazz dancing and looking at the sky
Special Skills: Ballet and karaoke
Favorite Food: Pancakes, kidney beans
Discography
[
]
Main article: Fukuda Asuka/Discography
Publications
[
]
Solo Photobooks
[
]
Essay Books
[
]
[1999.05.17] Mou Hitori no Asuka (もうひとりの明日香; Another Asuka)
Works
[
]
Movies
[
]
TV Dramas
[
]
Radio
[
]
[1998.10-1999.03] Abe Natsumi, Fukuda Asuka no Onegai Morning Call (安倍なつみ・福田明日香のお願いモーニングコール)
[2017] asuka no Kimagure Radio (asukaの気まぐれラジオ)
Magazines
[
]
Trivia
[
]
Along with Abe Natsumi, she was one of the group's main singers.
She was Morning Musume's first graduate.
She had the shortest tenure, at only 1 year and 7 months, out of all former members of Morning Musume.
She stated the reason she graduated was to focus on her studies, although she dropped out of high school not long after her graduation. There was a rumor (possibly generated by the essay book she released a month after her graduation) that she was allegedly bullied by some of the other members due to her young age.
Around the time she left Hello! Project, she helped musician Yorico get her start by introducing her to her own manager, Wada Kaoru.
She was considered to be one of the most talented vocalists the group ever had.
She was the second shortest member of Morning Musume, while the shortest was Yaguchi Mari.
She graduated at age 14, which makes her the youngest Morning Musume member to graduate.
She was the first member to continue being the youngest member after another generation joined; Later on, Kudo Haruka was the second and Haga Akane is the third.
She shares the same last name as 1st generation ANGERME member Fukuda Kanon, and Tsubaki Factory member Fukuda Marine.
Honorary Titles
[
]
References
[
]
External Links
[
]
Morning Musume
Members
Current Members
Former Members
Discography
Singles

Indies
Major
Digital
Collab

Albums
Sub-Units
Concerts
Concerts

Spring Tours
Summer Tours
Fall Tours
Naruchika
Overseas

2008
2009
2010
2014
2016
2017
2018

Dinner Shows
One-Day
Units & Other Acts
In-group Sub-units
Associated Acts