Ex-ceed! was a special unit consisting of Morning Musume's Junjun and Linlin, Berryz Koubou's Natsuyaki Miyabi, and former Morning Musume member Kusumi Koharu. The group was announced on May 16, 2010, and was formed to perform at the 2010 Shanghai World Expo.
Members
[
]
History
[
]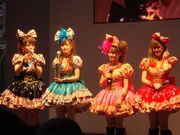 2010
[
]
On May 16, the creation of the unit was announced by Morning Musume members Junjun and Linlin in a TV show called "Music Story in Japan" from an international Shanghai channel. Junjun and Linlin invited Natsuyaki Miyabi from Berryz Koubou to join them after reading in a magazine that she wanted to go to China. Later, the three of them invited former Morning Musume member Kusumi Koharu because they said that her Chinese pronunciation was funny.
On June 2, the unit name was revealed to be "Ex-ceed!". The name of the group was decided between different options sent by the fans, and it was announced at their first event in Shanghai.
On June 22-23, the unit performed in Shanghai. They sang songs including "Dschinghis Khan", "Balalaika", "Go Girl ~Koi no Victory~", "Kacchoii ze! JAPAN", "Jasmine Flower" (a chinese song), "Ame no Furanai Hoshi de wa Aisenai Darou? (Chinese Ver.)", and "Dekkai Uchuu ni Ai ga Aru".
On October 27-28, they performed in China for the 2010 Shanghai World Expo, with 3 performances scheduled in total.
On December 15, Junjun and Linlin graduated from Morning Musume and Hello! Project, effectively disbanding the unit.
Group Name Origin
[
]
This is the explanation behind the name:
Exceed means to go beyond. Ex, stands for Expo. The Shanghai world expo is to exceed the boundary of race and country. Ceed, also sounds like "seed". With their sweet voices and happy dances, I hope the four girls can give joy to everyone in China and the rest of the world with their happy "seed". And from that seed, grow into a strong tree. "!" represents the ! in Hello! Project. Also, Ex-ceed! sounds cool.
Gallery
[
]
External Links
[
]