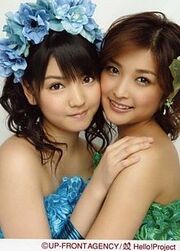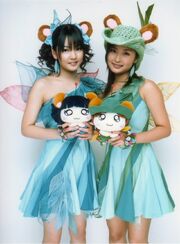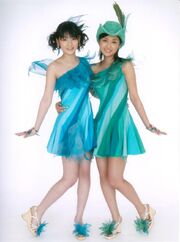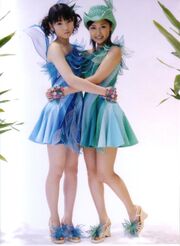 Ecomoni (エコモニ。), was a Hello! Project subgroup formed in 2004. The purpose of the group was to promote environmental awareness. It was supposed to be a temporary unit, lasting from June 19, 2004 to June 20, 2004 but the would continue to appear as a unit during various environmental festivals and events. In later years, temporary environmental units would become a staple of SATOYAMA & SATOUMI movement events.
Members
[
]
History
[
]
2004
[
]
Ecomoni was created for the Morning Musume "Acchii Chikyuu wo Samasunda." Bunkasai 2004, a two-day environmental festival that took place on the 19th and 20th of June. They were originally supposed to have disbanded after the festival during the "1,000,000 People Candle Night" ceremony, where the Tokyo Tower lights would be switched off to conserve energy.[1] However, it was decided that the group would continue activities when Japan's Minister of the Environment, Koike Yuriko, personally requested that they continue during the shutdown ceremony.
At the festival they sang their song "Help!! ~Ecomoni no Acchi Chikyuu wo Samasunda!~" which was written and composed by Tsunku. The song only appeared on a DVD available for purchase at the Festival and on the compilation album Petit Best 5. A version from Morning Musume's musical HELP!! Acchii Chikyuu wo Samasunda. appeared on Petit Best 6.
In July and October of 2004 and in January of 2005, Ecomoni made a number of appearances on the TV show Oha Suta.
At the end of 2004, they appeared with Matsuura Aya in the fourth Hamtaro film, Hamtaro to Fushigi no Oni no Emon Tou, as Ecohamzu. The single features an original image song, Eco no Waltz, which does not appear in the film.
2005
[
]
In 2005, Ecomoni joined the rest of Hello! Project in their involvement with the Japanese Ministry of the Environment's "Team Minus 6%" campaign[2][3] to reduce Japan's greenhouse gas emissions to a level of 6% below the level of 1990 by 2012. They appeared with Minister Koike at the British Embassy in Japan on April 7 to promote the event. They were the 44th celebrity group to join the initiative, behind Morning Musume's #43.[4]
On November 16, Ishikawa and Michishige released a joint photobook called Angels, though it was not a Ecomoni product.
2006
[
]
On September 16 and 17th, Ecomoni, along with Morning Musume campaigned against global warming at Morning Musume "Acchii Chikyuu wo Samasunda." Bunkasai 2006 in Yokohama.
2007
[
]
In 2007, they appeared at Morning Musume "Acchii Chikyuu wo Samasunda." Bunkasai 2007 in Yokohama along with Morning Musume, v-u-den, Berryz Koubou and ℃-ute.
2013
[
]
On February 4th, Michishige confirmed on her blog that the unit was no longer active.[5]
Discography
[
]
Singles
[
]
Compilations
[
]
Appearances
[
]
TV
[
]
Film
[
]
[2004] Hamtaro to Fushigi no Oni no Emon Tou
Environment Awareness
[
]
[2005] "Team Minus 6%" campaign
Trivia
[
]
Their costumes are designed to represent the spirits of the forest and the sea.
Their signature pose was to put their opposing hands together to form a V.
References
[
]
External Links
[
]
Morning Musume
Members
Current Members
Former Members
Discography
Singles

Indies
Major
Digital
Collab

Albums
Sub-Units
Concerts
Concerts

Spring Tours
Summer Tours
Fall Tours
Naruchika
Overseas

2008
2009
2010
2014
2016
2017
2018

Dinner Shows
One-Day
Units & Other Acts
In-group Sub-units
Associated Acts