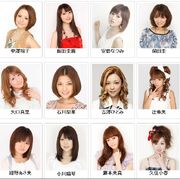 Dream Morning Musume (ドリーム モーニング娘。; Dream Morning Girls), also known as Morning Musume OG (モーニング娘。OG) and Dorimusu (ドリムス。), are the members of Morning Musume who have either graduated from the group to pursue other things within various companies under UP-FRONT GROUP, such as working within another group or becoming a soloist or those who resigned from Morning Musume due to scandal.
Members
[
]
First Generation (1997)
[
]
Second Generation (1998)
[
]
Fourth Generation (2000)
[
]
Fifth Generation (2001)
[
]
Sixth Generation (2003)
[
]
Seventh Generation (2005)
[
]
History
[
]
All members of Dream Morning Musume had graduated from Hello! Project with the rest of the Elder Club on March 31, 2009, for the exception of Kusumi Koharu who graduated in December of the same year. These members still work in various companies under UP-FRONT GROUP, and still perform or be guests on TV shows.
For celebrating the 13th birthday of Morning Musume, on January 28,  2011 the original Morning Musume debuted on that date in 1998, the group officially debuted at a press conference for official medias and some people of the fanclub at the Nakano Sun Plaza as Dream Morning Musume. They announced the groups first album, it is called "Dorimusu ①" and was released on April 20 2011. The Spring tour, "Dream Morning Musume Concert Tour 2011 Haru no Mai ~Sotsugyousei DE Saikessei~" was announced one month prior, but at the press conference, the members announced a second huge nationwide tour to begin in the fall. The Spring tour will consist of 16 performances in seven locations, but the Fall tour will reportedly bring that total to 40 performances at 20 locations.
The average age of the group was mentioned at the event; the current Morning Musume's average age is 17.5, but Dream Morning Musume's average age is 27. The members said that the Dream Morning Musume are not just idols, the group is more than this. We can not categorize them and there is no leader, every member is a fundamental member of the group. Also, Tsuji Nozomi had been originally listed as a member of Dream Morning Musume, but due to her pregnancy, she could not participate.
It was rumored that Konno Asami will also be joining Dream Morning Musume, but she is not listed as a member on the Dream Morning Musume official website. She was previously featured in promotional pictures for the group, but left in 2011 to become a TV announcer.
Although Kago Ai is a former member of Morning Musume, she could not participate as a Dream Morning Musume member due to being fired by Up Front Agency and Hello! Project.
There were rumours that graduated Morning Musume member Takahashi Ai will join Dream Morning Musume. However, it wasn't proven to be true. It was also rumored that she will participate in Shining Butterfly, but she only did a cameo in PV, and did not perform.
When Niigaki Risa announced that she would graduate, it was thought that she might join Dream Morning Musume. However, this rumor wasn't proven true.
Dream Morning Musume was created temporarily in January of 2011, and consists of 10 former members of Morning Musume. The group will hold their last concert at Nippon Budokan on March 10, 2012.
On March 10, 2012 Dream Morning Musume held their "first chapter final" live concert titled Dream Morning Musume Special LIVE 2012 Nippon Budokan ~Dai Isshou Shuumaku "Yuusha Tachi, Shuugou Seyo"~. The current Morning Musume members, Dream Morning Musume members, Ishiguro Aya and Tsuji Nozomi made guest appearances. Moreover, Goto Maki who has been on indefinite hiatus since the end of last year, also made a surprise appearance. All together, a total of 24 former and current Morning Musume members got together on the stage. After the live, Dream Morning Musume would go on hiatus.
Units
[
]
Discography
[
]
Singles
[
]
Albums
[
]
Concert Tours
[
]
External Links
[
]
Morning Musume
Members
Current Members
Former Members
Discography
Singles

Indies
Major
Digital
Collab

Albums
Sub-Units
Concerts
Concerts

Spring Tours
Summer Tours
Fall Tours
Naruchika
Overseas

2008
2009
2010
2014
2016
2017
2018

Dinner Shows
One-Day
Units & Other Acts
In-group Sub-units
Associated Acts