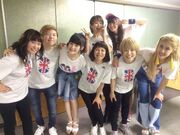 Dolce (ドルチェ) was the live backing band of Buono!, having performed with the group since their first solo live in 2008, where they were originally introduced as Busters! (バスターズ). The band members were professional musicians or members of other bands.
Dolce disbanded alongside Buono! at their last concert on May 22, 2017.
Members at Time of Disbandment
eji - Bandmaster, keyboard
Fujii Mariko (藤井万利子) - Guitar
Higuchi Kei (ひぐちけい) - Guitar
Naomichi (なおみち); real name: Iwasaki Naomi (岩崎なおみ) - Bass
Maimai (まいまい); real name: Imamura Mai (今村舞) - Drums
Former Members
Kumi (クミ); real name: Kobayashi Kumi (小林久美) - Guitar
Kiku-chan (きくちゃん); real name: Kikuchi Kiyomi (菊池聖美) - Bass
Yoko (ヨーコ) - Drums
Sugawara Junko (菅原潤子) - Guitar
cheeta - Drums
Marty (マ-ティ); real name: Isogai Mayu (磯貝真由) - Guitar
Group Name Origin
Edit
Like Buono!, Dolce is an Italian word that can apply to food; dolce meaning "sweet".
eji is the only member to have been in Dolce for every Buono! concert since the band was formed.
Dolce was a four-piece band until Buono! Festa 2016, when Higuchi Kei was added as a fifth member and second guitarist. Playing in Dolce was something Higuchi had dreamed of when she was in high school.[1]
References
Edit
External Links
Edit
Community content is available under
CC-BY-SA
unless otherwise noted.