Do it! Now is Morning Musume's 15th single. It was released on July 24, 2002 and sold 310,600 copies, peaking at #3 on the Oricon charts. The DVD and VHS were released on September 26, 2002 and sold a total of 43,961 copies.
This single is the last to feature 3rd generation member Goto Maki.
Do it! Now also ranked as the #29 single for 2002.
Tracklist
Edit
Do it! Now
Chotto Ikashita PURE BOY (ちょっとイカした PURE BOY; Slightly Stylish PURE BOY)
Do it! Now (Instrumental)
Do it! Now
Making of (メイキング映像)
Featured Members
Edit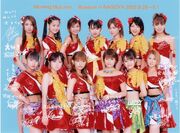 TV Performances
Edit
2002-07-25 Utaban
2002-07-26 Music Station
2002-12-27 Music Station
Concert Performances
Edit
Do it! Now
Single Information
Edit
Do it! Now
Chotto Ikashita PURE BOY
Daily & Weekly Rankings
| Mon | Tue | Wed | Thu | Fri | Sat | Sun | Week Rank | Sales |
| --- | --- | --- | --- | --- | --- | --- | --- | --- |
| - | 3 | 3 | 3 | 2 | 2 | 2 | 3 | 180,490 |
| 2 | 6 | 7 | 4 | 4 | 3 | 3 | 3 | 45,410 |
| 3 | 12 | 13 | 8 | 10 | 5 | 5 | 9 | 25,050 |
| 6 | 7 | 8 | 9 | 8 | 7 | 7 | 9 | 18,500 |
| 6 | 17 | - | 16 | 18 | 14 | 14 | 14 | 13,730 |
| 7 | - | - | - | - | 19 | - | 22 | 9,950 |
| - | - | - | - | - | - | - | 39 | 4,900 |
| - | - | - | - | - | - | - | x | 3,070 |
| - | - | - | - | - | - | - | 58 | 2,670 |
| - | - | - | - | - | - | - | x | xxxx |
Yearly Ranking
| Year | Year Rank | Sales |
| --- | --- | --- |
| 2002 | 29 | 310,600 |
Total Reported Sales: 312,523
This is the seventh Morning Musume single with an English name.
1st Generation member Iida Kaori gives a comment about the single on YouTube.
As of February 2016, the official music video has over 2,000,000 views, making it 1 of 46 music videos for a single that has reached over 1,000,000 views on Morning Musume's official YouTube channel.
A remix of this song appears on the Pucchi Best 3 album. The remix is titled Do it! Now (CRAZY SODA REMIX) and was arranged by Hirata Shouichirou.
An English cover of Do it! Now was recorded by Mylin Brooks for the album Cover Morning Musume Hello! Project!
Each member wore a different sash on their dress in the music video, seen here
External Links
Edit