This article is in need of a clean-up.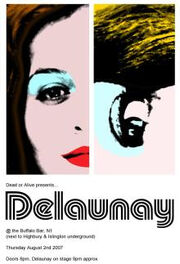 Delaunay (デルニ) is a former band consisting of former Hello! Project and Coconuts Musume member Danielle Delaunay on vocals. She is accompanied by Imran Hanif on bass, Joti Mangat on guitar, Andrew Long on keyboard, and Ali Kember on drums. Their genre is Folk / Glam Rock / Pops, and they described their music as ethereal, warm, wonderful, colorful, and fruity.[1]
The band had a promotional deal with Netlive which presented videos, songs and updates about the band over the next six months. They actively performed in London, UK, until they split at the end of the year.
2007
[
]
In May, it was announced that Danielle had formed a new band called Delaunay. They landed a promotional deal with Netlive, where they were going to share videos, songs and updates about the band, aiming to debut in Japan in 2008.[2] They planned to play shows in Tokyo, Kyoto, Osaka and maybe Okinawa.
In June, they were preparing to go into recording studio and had their first recording on June 10. They said in a blog post on the same date that they were going to let everyone know when the songs have been mixed, mastered and are ready.[3]
On June 12, the second installment of their video diaries was released. It showed Danielle practicing the Japanese version of "Mother Dear".
On June 18, they said they were working on their album, and that the single "Mother Dear" would soon be available for download exclusively from NetLive.[4]
On June 26, they held a gig at The Comedy in Piccadilly in London. They said they wanted to perform all of their music, but it will be too long, so they were working on deciding the set list.[5] [6] They performed at least the song "Too Close".[7]
On July 3, they announced they were writing new songs.[8]
On July 14, Danielle wrote "it will be difficult for me to keep up with the amount of blogs that i have been providing so far. We are currently rehearsing, writing new material andrecording our album...and it really needs as much focus and attentionthat I can give to it. I will keep you updated with things that are happening, when I have time."[9]
Members
[
]
Danielle Delaunay (vocals)
Imran Hanif (bass)
Joti Mangat (guitar)
Andrew Long (keyboard)
Ali Kember (drums)
Discography
[
]
Digital Singles
[
]
Events
[
]
[2007.06.26] The Comedy in Picadilly
[2007.08.02] The Buffalo Bar in Highbury Islington
Trivia
[
]
Danielle later married Joti. They had two sons.
Imran also composed for BBC One and wrote songs with Sugar Babes and Keane.[10]
References
[
]