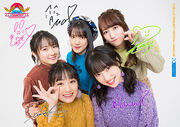 Country Girls Fanclub Tour in Shizuoka "Ichi Fuji Ni Taka San Country!" (カントリー・ガールズ ファンクラブツアー in 静岡"一富士 二鷹 三カントリー!"; Country Girls Fanclub Tour in Shizuoka "The Best is of Mt. Fuji, the Second Best is of a Hawk, the Third Best is of Country Girls!") was Country Girls' 2019 fanclub tour. It took place on January 30 and 31, 2019.
It included a 6-shot cheki session, a fan meeting, sightseeing in Shizuoka, a special live, and a handshake event.
The deadline to pre-order the fanclub-exclusive DVD was on April 26, 2019[1] and it was released to fanclub members on June 26, 2019.[2]
Live Setlist
Edit
MC
MY BOY - Morito Chisaki, Ozeki Mai, Funaki Musubu
Daisuki 100manten - Yamaki Risa, Yanagawa Nanami
MC
Featured Members
Edit
The title is a play on the proverb for hatsuyume, the first dream of the year which foretells luck: "Ichi Fuji, Ni Taka, San Nasubi" (一富士、二鷹、三茄子; The best is of Mt. Fuji, the second best is of a hawk, and the third best is of eggplant).
DVD Preview
Edit
References
Edit
External Links
Edit
Community content is available under
CC-BY-SA
unless otherwise noted.