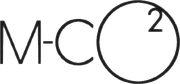 Coconuts Musume (ココナッツ娘。; Coconuts Girls, also known as M-CO² (pronounced em ko ko)) is a former Japanese pop group under Hello! Project. They were promoted as the girls from Hawaii and as a sister unit to Morning Musume. They were produced by Tsunku and presented by Makoto, and released their debut single in July 1999.
The group disbanded on April 30, 2008, when Ayaka left Hello! Project. She had been the only remaining member in the group since 2004.
Members
[
]
Main article: Coconuts Musume/Members
Members at Time of Graduation from Hello! Project
[
]
Ayaka (アヤカ) (Founding Member; Leader 2000-2008)
Former Members
[
]
History
[
]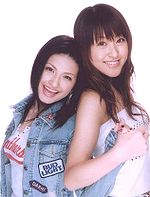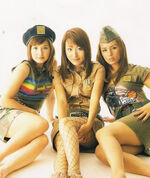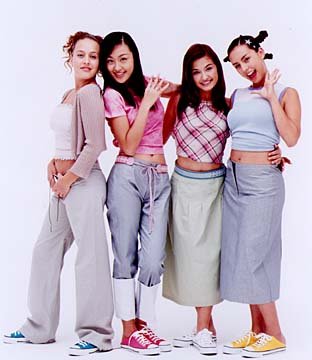 1998
[
]
In November, the Pacific Dream Pop Singer Competition was held in Hawaii, USA by Sony Music Entertainment Japan, offering a record deal to the overall winner. International finals was held at the Nagoya Hard Rock Cafe in December.
1999
[
]
In March, Ayaka, Chelsea, April, Danielle, and Mika were selected.
On May 18, Idol wo Sagase! aired an episode which was Coconuts Musume's first appearence on the program. It showed Makoto visiting the girls in Hawaii where they lived. Makoto met with their families and got them to agree to let the girls go to Japan. On the episode the following week, it was shown how the families of Ayaka and the others gave their approval for them to go.
On June 27, Coconuts Musume were first introduced on an episode of ASAYAN, credited as "Presented by Makoto, Produced by Tsunku". A baffled Morning Musume who were in the studio at the same time was not happy with the competition and how mature and beautiful they thought the Coconuts Musume members looked. They were even more shocked when an English version of Morning Musume's second single "Summer Night Town" was announced to be Coconuts Musume's debut single.[1]
On July 4, "Summer Night Town (Egao Version)" was announced as their debut song.[2]
On July 23, they released their debut single, "Halation Summer / Summer Night Town (English Version)". "Halation Summer" was the theme song to the anime Kyoro-chan, and was described by music magazines as a song with Latin beat and brings up images of summer. "Summer Night Town (English Version)" was described as an English version of the Morning Musume song, but with a very fresh sound. Chelsea described Halation Summer as, "I think 'Halation Summer' was a really cute song. But our real nature isn't comical and cute."[3]
In August, the group made their debut in Taiwan and released the Taiwanese edition of their first single. The music videos for both "Halation Summer" and "Summer Night Town (English Version)" were shot there. Ahead of the release, the members held release events and handshake events with fans in Taiwan as well.[4]
From August 14 to August 26, Coconuts Musume was part of the Hello! Project concert "Hello! Project '99". Here they perfomred "Summer Night Town (English Version)" and the then unreleased song "DANCE & CHANCE". Only "DANCE & CHANCE" made it on to the VHS release of the concert.
On August 25, Coconuts Musume released their second single, "DANCE & CHANCE". Mika compared the title track of the single to the songs on their previous single, saying "It's like 'Halation Summer' was a song for me, and the coupling song 'Summer Night Town (English Version)' was a song for the sexy Chelsea, Danielle, and April. So maybe 'DANCE & CHANCE' will be a blend of everybody?"[5]
In September, Coconuts Musume appeared in the magazine "Young Sunday". The magazine labeled them as Morning Musume's pretty sisters. It featured gravure pictures of them.
On an episode of the variety show "Idol wo Sagase!" aired September 21, we see Coconuts Musume going back home to Hawaii. On the episode the following week, the two hosts of the show are conducting a telephone interview with Ayaka, Mika and Danielle only.
In October, the group released a collection of their music videos on VHS and DVD titled Coconuts Musume.
In November, it was announced that they were searching for a sixth member of the group through an audition called COCONUTS MUSUME AUDITIONS.[6]
2000
[
]
In January, it was announced that Chelsea and April had graduated from the group to continue their education back in Hawaii. Rumors were spread about how the girls had problems adjusting to life and culture in Japan as they spoke no Japanese, and had wished to go back home permanently. Chelsea pursued a modeling career after she returned back to Hawaii, and April never returned to the entertainment industry. Also in January, Lehua officially joined the group after winning the audition announced in November last year.
In April, the group name changed from Coconuts Musume (ココナッツ娘) to Coconuts Musume. (ココナッツ娘。).[7]
On May 17, they released their third single, "Tokonatsu Musume". It was described as a bubbly dance tune with an early summer feel, and it had a colorful video to go with it. This was a departure in image from their earlier sexy and mature vibe.
On July 26, they released their fourth single, "Watashi mo "I LOVE YOU"", another poppy and cute song with a fun, bubbly video to accompany it.
2001
[
]
In April, it was announced on Idol wo Sagase that Danielle would graduate from Coconuts Musume on May 8th to complete her university education.[8] Rumors were spread among fans saying that she had had a nervous break-down, and had to take her time recovering. Danielle later pursued model and acting, and would later start her own music school. After Danielle's departure, the group switched labels from Sony Music Entertainment Japan to zetima. They also stopped using the name M-Co2.
In August, the group released their fifth single, "Jounetsu Yuki Miraisen". The song was described as a blend of their previous images, and would become their second best-selling single.
In late 2001, new auditions called "Coconut Musume Project" were announced. Application deadlines were December 31, and selected applicants would be contacted early January 2002. Open interviews were also held in the first weeks of January 2002 in Kauai, Big Island, Maui and Oahu. An online site provided an application form that was to be sent in.[9]
2002
[
]
In February, Lehua left Hello! Project and went back to Hawaii. According to her agency, she left to focus on her school education. Later, she said she wanted to go back home because of the big impact September 11 had on the US, and that made her want to be closer to her family. Lehua pursued modeling and was quite succesfull participating in beauty pageants. She later withdrew completely from showbusiness and social media.
On July 16, Coconuts Musume released the essay book Coconuts Musume no Tanoshii Hawaii Ryuugaku. They also held a handshake event the same day at Ginza/Fukuya bookstore. About 500 fans gathered at the venue and shook hands with Mika and Ayaka who wore hibiscus-patterned yukatas.
2004
[
]
Coconuts Musume did the chorus for the B-side "junior LOVE." for Goto Maki's single Sayonara no LOVE SONG.
In March, Coconuts Musume's official site announced that Mika was going to graduate from Hello! Project on May 2 to study singing in California.[10]
2008
[
]
On April 30, Ayaka suddenly graduated from Coconuts Musume and Hello! Project without a graduation ceremony, stating that she was going to pursue her dreams of a career in acting. One day later, it had been announced that she had signed with a new agency. With Ayaka's departure, there were no remaining members of Coconuts Musume and the group had officially disbanded.
Discography
[
]
Main article: Coconuts Musume/Discography
Major Singles
Other Singles
Works
[
]
Events
[
]
DVDs
[
]
Television
[
]
Commercials
[
]
Theater & Musicals
[
]
Radio
[
]
[????] Hello! Fun Sun Yo! M-CO2
[2001] FUNKY SEXY NIGHT WITH COCONTUS (FUNKY SEXY NIGHT WITHココナッツ。)
[2001-2004] KISS THE COCONUTS!
[2004-2005] BLEND KISS
Promotions
[
]
Publications
[
]
Essay Books
[
]
Magazines
[
]
[1999.07.26] The Ichiban
[1999.08.25] Hot Dog Press
[1999.09.02] Young Sunday
[2001.??.??] Young Sunday
[2002.08.05] Girls Zappy
Trivia
[
]
References
[
]
External Links
[
]
Coconuts Musume
Units & Other Acts
Associated Acts