Coconuts Musume
ココナッツ娘。

Coconuts Musume promoting "Halation Summer / Summer Night Town (English Version)"
Information
Also Known As
M-CO², Coconuts Musume Ayaka
Origin
Hawaii/Japan
Genre
Japanese Pop
Years Active
1999–2008
Labels
Sony Music Entertainment Japan
zetima
Agency
UP-FRONT AGENCY
Associated Acts
Morning Musume, Country Musume, Ice Creamusume, Minimoni, Petitmoni, ROMANS, 10nin Matsuri, 11WATER, 7AIR, 7nin Matsuri, Akagumi 4, Aoiro 7, Happy♡7, H.P. All Stars, Kiiro 5, Sexy 8, Hello! Project Shirogumi, Elder Club
Members
Ayaka (1999-2008)
Chelsea (1999-2000)
April (1999-2000)
Danielle (1999-2001)
Mika (1999-2004)
Lehua (2000-2002)
Coconuts Musume (ココナッツ娘。; Coconuts Girls, also known as M-CO² (pronounced em ko ko)) is a former Hello! Project unit, promoted as the "girls from Hawaii".
"Coconuts" refers to the group's origin in Hawaii, and "Musume" refers to its sister relationship with Morning Musume.
Coconuts Musume's highest selling single is Halation Summer / Summer Night Town (English Version) with 9,730 copies sold. Their lowest selling single is Watashi mo "I LOVE YOU" with 2,540 copies sold.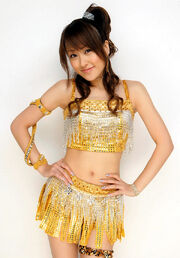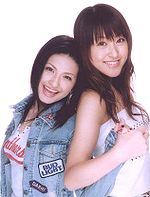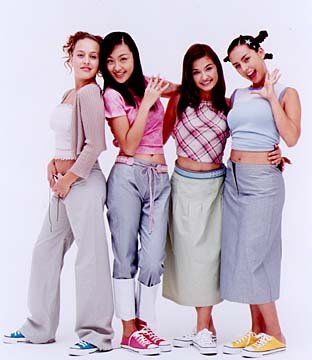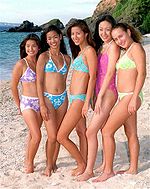 1st Generation
Edit
2nd Generation
Edit
Lehua (レフア) (graduated February 2002)
Biography
Edit
In November, a series of auditions called the Pacific Dream Pop Singer Competition was held in Hawaii, USA. 1500 applicants signed up, and Makoto (a band mate of Tsunku, producer of Morning Musume and Hello! Project) was allegedly the one choosing five girls out of the 1,500.
In March, Tsunku had chosen Ayaka, Chelsea, April, Danielle, and Mika as the winners. There were also rumors that Makoto discovered them performing together at a bar in Hawaii, and he was so mesmerized he had requested that Tsunku pick up the act.
On May 27, Coconuts Musume were first introduced on an episode of ASAYAN (a talent show aiming to produce new music talents), to a baffled Morning Musume who were in the studio at the same time. Morning Musume, not happy with the competition and how mature and beautiful they thought the Coconuts Musume members looked, were even more shocked when an English version of Morning Musume's second single Summer Night Town was announced to be Coconuts Musume's debut single.[1]
On July 23, they released their debut single, Halation Summer / Summer Night Town (English Version). "Halation Summer" was the theme song to the anime Kyoro-chan, and was described by music magazines as a song with Latin beat and brings up images of summer. "Summer Night Town (English Version)" was described as an English version of the Morning Musume song, but with a very fresh sound. Chelsea described Halation Summer as, "I think 'Halation Summer' was a really cute song. But our real nature isn't comical and cute."[2]
In August, the group made their debut in Taiwan and released the Taiwanese edition of their first single. The music videos for both "Halation Summer" and "Summer Night Town (English Version)" were shot there. Ahead of the release, the members held release events and handshake events with fans in Taiwan as well.[3]
On August 25, Coconuts Musume released their second single, DANCE & CHANCE. Mika compared the title track of the single to the songs on their previous single, saying "It's like 'Halation Summer' was a song for me, and the coupling song 'Summer Night Town (English Version)' was a song for the sexy Chelsea, Danielle, and April. So maybe 'DANCE & CHANCE' will be a blend of everybody?"[4]
In October, the group released a collection of their music videos on VHS and DVD titled Coconuts Musume.
In November, it was announced that they were searching for a sixth member of the group.[5]
In January, it was announced that Chelsea and April had graduated from the group to continue their education back in Hawaii. Rumors were spread about how the girls had problems adjusting to life and culture in Japan as they spoke no Japanese, and had wished to go back home permanently. Chelsea pursued a modeling career after she returned back to Hawaii, and April never returned to the entertainment industry.
Also in January, Lehua Sandbo officially joined the group after making it to the finals of the new member auditions (impressing the judges by singing in Japanese).
In April, the group name changed from Coconuts Musume (ココナッツ娘) to Coconuts Musume. (ココナッツ娘。).[6]
On May 17, they released their third single, Tokonatsu Musume. It was described as a bubbly dance tune with an early summer feel, and it had a colorful video to go with it. This was a departure in image from their earlier sexy and mature vibe.
On July 26, they released their fourth single, Watashi mo "I LOVE YOU", another poppy and cute song with a fun, bubbly video to accompany it.
In 2000, all members participated in what was called the summer shuffles. In the fall, enka singer Maeda Yuki took Danielle's place in the group Akagumi 4, as she had had an injury.
In April, it was announced on Idol wo Sagase that Danielle would graduate from Coconuts Musume on May 8th to complete her university education.[7] Rumors were spread among fans saying that she had had a nervous break-down, and had to take her time recovering.
After Danielle's departure, the group switched from the Sony Music Entertainment Japan label to the Zetima label. Danielle pursued model and acting, and would later start her own music school.
In August, the group released their fifth single, Jounetsu Yuki Miraisen. The song was described as a blend of their previous images, and would become their second best-selling single.
In late 2001, new auditions called "Coconut Musume Project" were announced. Application deadlines were December 31, and selected applicants would be contacted early January 2002. Open interviews were also held in the first weeks of January 2002 in Kauai, Big Island, Maui and Oahu. An online site provided an application form that was to be sent in.[8]
In February, Lehua left Hello! Project and went back to Hawaii. According to her agency, she left to focus on her school education. Later, she said she wanted to go back home because of the big impact September 11 had on the US, and that made her want to be closer to her family. Lehua pursued modeling and was quite succesfull participating in beauty pageants. She later withdrew completely from showbusiness and social media.
In June, the website for "Coconuts Musume Project" announced the auditions had come to a close. No one passed, and the group instead became a duo in August. For the remainder of their time under Hello! Project, Mika and Ayaka would never release anything else under the Coconuts Musume name, though they contributed to various Hello! Project releases and concerts, as well as became the Japanese spokespersons for Dole pineapples. They also appeared on and hosted various radio and television shows separately.
In Spring, the group made its final performance during Morning Musume CONCERT TOUR 2004 Haru The BEST of Japan.
In early 2004, Mika graduated from the group and Hello! Project to study singing in California. She pursued a solo career, but this was short lived. She returned to a normal life.
BE ALL RIGHT! by the shuffle group 11WATER was her last song with Ayaka as Coconuts Musume. With Mika gone, Ayaka was the only member, and she continued to be introduced as "Coconuts Musume Ayaka".
In 2004, Coconuts Musume's 2001 radio show called KISS THE COCONUTS! came to an end.
In late April, Ayaka suddenly graduated from Coconuts Musume and Hello! Project without a graduation ceremony, stating that she was going to pursue her dreams of a career in acting. One day later, it had been announced that she had signed with a new agency. With Ayaka's departure, there were no remaining members of Coconuts Musume and the group had officially disbanded.
Discography
Edit
Television
Edit
[xxxx] Friday Night wa Onegai! TV Iiwate Seisaku Nihon TV Keiretsu (フライデーナイトはお願い!モーニング (テレビ岩手製作日本テレビ系列))
Commercials
Edit
Theater & Musicals
Edit
Promotions
Edit
Publications
Edit
Essay Books
Edit
Country Musume and Coconuts Musume are the only groups to have been reduced to just one member. 
Hawaiian cover version in English of Coconuts Musume's "Watashi mo 'I Love You'" can be found on the obscure omnibus album "Aloha no Okurimono Hawaiian Style de Kiku J-Pops" released in 2003.
References
Edit
External Links
Edit
Community content is available under
CC-BY-SA
unless otherwise noted.