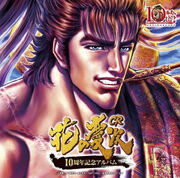 CR Hana no Keiji 10 Shuunen Kinen Album (CR花の慶次10周年記念アルバム) is an album honoring the 10th anniversary of CR Hana no Keiji featuring covers of various songs from the CR Hana no Keiji franchise sung by various artists, including Up Up Girls (Kari). It was released on December 20, 2017.
Tracklist
Edit
Gamusou (我無想) - Kakuda Nobiaki
Otoko no Kenka Utsukushiku (漢の喧嘩 美しく) - Oonishi Youhei
Utage -Iwai Tamauta- (宴-祝魂歌-) - Kakuda Nobiaki, Oonishi Youhei
Kabukimono Renka (傾奇者恋歌) - Band ja Naimon!
Otokobana (漢花) - Kamen Joshi
Yosshaa Otoko Uta (よっしゃあ漢唄) - Masuda Yuka
Shura no Hate Made mo (修羅の果てまでも) - Up Up Girls (Kari)
Sen no Michi (戦ノ道) - MAGiCAL PUNCHLiNE
Bushi no Hana (武士ノ花) - Cheeky Parade
Namida Sakura (涙桜) / - Kakuda Nobiaki, Asaka Yui
Additional Videos
Edit
External Links
Edit
Community content is available under
CC-BY-SA
unless otherwise noted.