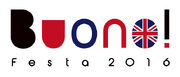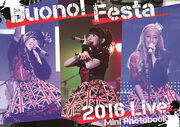 Buono! Festa 2016 is Buono!'s first concert at Nippon Budokan. It took place on August 25, 2016.[1][2]
The DVD and Blu-ray of the concert were released on November 23, 2016. The Blu-ray comes in a box set with a live photo leaflet and two live CDs.
Fanclub-exclusive solo angle DVDs were available for pre-order, individually or as a box set, until January 27, 2017.[3]
A mini photobook of the concert, titled Buono! Festa 2016 LIVE Mini Shashinshuu (Buono! Festa 2016 LIVEミニ写真集), was released on May 20, 2017.[4]
Setlist
[
]
VTR: PINK CRES. Group Name Announcement
Warning ~Mirai Keihou~ - PINK CRES. (DJ Juri appears)
Uwa no Sora - PINK CRES.
MC - PINK CRES.
Summer wonderland - PINK CRES.
MC - Country Girls
Dou Datte Ii no - Country Girls
Itooshikutte Gomen ne - Country Girls
MC - ℃-ute
Jinsei wa STEP! - ℃-ute
Kiss me Aishiteru - ℃-ute
Dance de Bakoon! - ℃-ute
Honto no Jibun - ℃-ute and Country Girls (without Tsugunaga Momoko and Suzuki Airi)
MC - Introductions and Happy Birthday song for Natsuyaki Miyabi
MC - Dolce introductions
Urahara (with violin accompaniment)
Kimi ga Ireba (with piano and violin accompaniment)
You're My Friend (with piano and violin accompaniment)
VTR: Staff Interviews
MC
Ren'ai♥Rider
Encore
MC
DVD/Blu-ray Tracklist
[
]
Featured Members
[
]
Backing Band
Dolce

eji (Keyboard)
Fujii Mariko (Guitar)
Higuchi Kei (Guitar)
Maimai (Drums)
Naomichi (Bass)
Guests
Concert Schedule
[
]
| | | | | |
| --- | --- | --- | --- | --- |
| Date | Venue | Prefecture | Doors Open | Concert Starts |
| 8/25 | Nippon Budokan | Tokyo | 17:00 | 18:00 |
Trivia
[
]
The concert took place on the same day as Natsuyaki Miyabi's birthday.
Concert tickets sold out the same day they went on sale.[5]
In attendance at the concert were: Kumai Yurina and Shimizu Saki,[6] Morning Musume '16,[7] ANGERME,[8] Juice=Juice,[9] Kobushi Factory,[10] Tsubaki Factory,[11] Up Up Girls (Kakko Kari),[12] Bitter & Sweet,[11] "Hatsukoi Cider" songwriters NOBE and Shihori,[13] lyricist Iwasato Yuho,[14] songwriters KOUGA and Nakamura Yoshiki,[15] and comedian Iwao Nozomu.[16]
A Twitter post by user @w__cmt on November 28, 2019 featuring a clip of Buono! performing "Hatsukoi Cider" at Buono! Festa 2016 went viral on Twitter in Japan, garnering over 2.3 million views, 22,100 retweets, and 98,300 likes in just two days.[17] This viral clip rejuvenated interest in Buono!, causing the group to trend at a peak position of #3 on Twitter in Japan the day after it was posted. In response, Suzuki Airi posted a Tweet of her own asking why everyone was talking about Buono! again, and expressing her happiness to the newfound attention.[18]
Videos
[
]
Gallery
[
]
References
[
]
External Links
[
]
Buono!
Units & Other Acts
Associated Acts