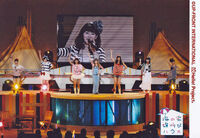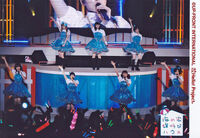 Berryz Koubou Concert Tour 2010 Shoka ~Umi no Ie Otakebi House~ (Berryz工房 コンサートツアー 2010初夏 ~海の家 雄叫びハウス~) is Berryz Koubou's 2010 early summer concert tour. The concert DVD was filmed on June 13, 2010 at C.C. Lemon Hall. It was released on August 25, 2010, the same day as Natsuyaki Miyabi's birthday. The BD released December 22, 2010.
The DVD sold 5,589 copies.
Information
Edit
The concert follows a story: Shimizu Saki wants to open the "Otakebi House" with her friends, even the always shy classmate Sugaya Risako decided to work there, but all Otakebi house ideas weren't really good. Then the girls did a karaoke session and Tsugunaga Momoko got the idea that the Otakebi house should become a place where the girls sing by themselves. Everyone loved the idea but then, Risako said that she was going to move to New York after summer holidays because her father got a new job, it's always like that since she was child: everytime she made friends, her father got a new job and she had to move again. But all the girls told her that she will be always welcomed in the Otakebi House, that they will be waiting for her forever.
For the June 13th concert in C.C.Lemon Hall, Fuji Television Station recorded the performances. They are going to air it on July 3rd in their show "Music on Saturday (Musata)".
For the recording day of the DVD, there was a good amount of fans.
Skit
OPENING VTR (BGM: Koi wa Hipparidako)
MC
MC - Tsugunaga Momoko, Sudo Maasa
Yakimochi wo Kudasai! - Shimizu Saki, Tokunaga Chinami, Sugaya Risako
Grand demo Rouka demo Medatsu Kimi - Sudo Maasa, Kumai Yurina
Ai ni wa Ai desho - Natsuyaki Miyabi, Tsugunaga Momoko
Drama: "House, Home of The Sea Cry"
Special Medley
Yuke Yuke Monkey Dance - Shimizu Saki, Tsugunaga Momoko, Natsuyaki Miyabi, Kumai Yurina (in banana tree outfits)
MC
MC
ENCORE
MC
External Links
Edit
Community content is available under
CC-BY-SA
unless otherwise noted.