Berryz Koubou Concert Tour 2009 Fall ~Medachitaii!!~ (Berryz工房コンサートツアー2009秋 ~目立ちたいっ!!~) is Berryz Koubou's 2009 Fall concert tour. The concert DVD was filmed on November 28, 2009 at Tokyo Kousei Nenkin Kaikan. It was released on February 10, 2010.
The DVD ranked at #5 and sold 6,986 copies.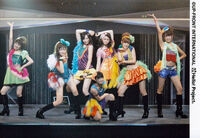 Information
[
]
For the Zepp sendai performance on October 17, Tsugunaga Momoko got the flu so she got to rest for one week and wasn't able to attend the concert for that week. There weren't any changes in the schedule. A day after Tsugunaga's flu announced, Natsuyaki Miyabi also got the flu, so she wasn't able to perform on that day too. Again, there weren't any changes. And then, only a few hours later, it was announced that Sugaya Risako and Sudo Maasa had also gotten the flu, so the concert scheduled for October 17 was cancelled and postponed to December 12.
Tsunku wrote in his blog that the girls decided by themselves the program of this concert giving the majority of the ideas, because of that the staff had to change great part of the original plan.
Set List
[
]
OPENING
VTR (Member Introduction) (wedding photobook style)
MC
Skit - Lunch Time chat
Ohiru no Kyuukeijikan - Tokunaga Chinami (Shimizu Saki, Tsugunaga Momoko, Sudo Maasa dialogue)
Otoko no Ko - Natsuyaki Miyabi, Kumai Yurina
Halation Summer - Shimizu Saki, Tsugunaga Momoko, Sudo Maasa, Sugaya Risako
MC - Sudo Maasa
Dschinghis Khan (Beatboxing in the middle of the song)
Kokuhaku no Funsui Hiroba - Sudo Maasa, Natsuyaki Miyabi, Tokunaga Chinami
VERY BEAUTY - Tsugunaga Momoko
Special Generation (Tsugunaga Momoko enters in the middle of the song)
MC - Shimizu Saki, Tsugunaga Momoko
Special Medley

Tekkin de Neko Fun Jyatta (A different member per concert starts to play on a tiny xylophone)

MC
Rival
ENCORE
MC
External Links
[
]