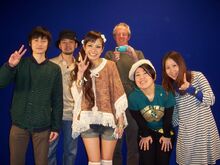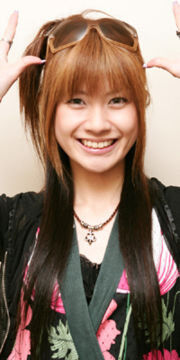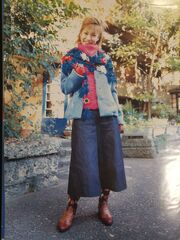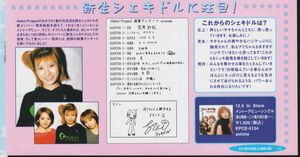 Arai Saki (荒井沙紀) is a Japanese model under Premium Entertainment. She is a former pop singer under Hello! Project as a former member of Sheki-Dol.
Upon joining Sheki-Dol in 2001, Arai Saki said in an interview that she had always loved singing since pre-kindergarten times, and always wanted to be a singer. When she was 20, she had the opportunity to take part in an audition. At the audition center, one of the judges had asked her if she was interested in coming to Tokyo to join an agency. She left for Tokyo the next day to meet up with the agency, and after an interview decided to move to Tokyo. It was the same agency as Amuro Namie's.[1]
She started doing small jobs such as modeling, talent work, photo shoot for magazines, being a spokesperson for a cosmetic product, and a TV commercial, while participating in auditions in between.
In August 2001, she passed an audition for finding a new member for Sheki-Dol to replace Oki Ibuki, and joined the group as her replacement.
In December 2001, Sheki-Dol released their fourth single Ai wa Muteki ~Hatachi no Yoru no Chikai~.
In January 2002, shortly after Arai Saki's debut in Hello! Project, it was announced that Sheki-Dol was going to disband. She left Hello! Project and the agency alongside the other members after the group's disbandment.
In 2004, Arai became a campaign girl for BoatBoy, and frequently promoted the campaign at their blog.[2] She was active as a female boat ticket writer at nationwide boat racetracks, magazines, TV, and boat racing official websites.
In 2006 to 2008, Arai spent time in Russia studying the language. She joined a music project called ула★ла (U La La), and wrote a few blog posts about writing lyrics in Russian and shooting a PV.[3] [4] [5] She never mentioned anything more about this after August 2008.
In 2009, Arai married retired Urawa Red Diamonds football player Horinouchi Satoshi, changing her name to Horinouchi Saki.
In November, Arai appeared in TV commercials for Scalp d Beaté.[6]
In December, Arai appeared in commercials for SoftBank CONNECT.[7]
In November, Arai appeeared in a PR video for Misono District. https://www.youtube.com/watch?app=desktop&v=q_VVAetvOQE&ab_channel=saitamacitypr
Favorite Color: Black
Favorite Food: Salmon, Hamburger
Favorite Season: Winter
Discography Participated In
[
edit
|
edit source
]
Funky Moneky Sheki (ファンキーモンキーシェキ) (bay FM, Kiss FM) - as Sheki-Dol
POP JELLY BEANS (FM Fuji) - as Sheki-Dol
Shimura Ken no First Stage (TOKYO FM) - as guest
Bunkahousou "Heike Michiyo no Chaparasuka Fight" (文化放送「平家みちよのちゃぱらすかFight」)- as guest
Marcia no Saude! Marcia (マルシアのサウージ!マルシア)- as guest
Karubii Kappaebisen (カルビーかっぱえびせん)
Nintendo Donkey Kong GAME BOY (任天堂ドンキーコングGAMEBOY)
Yoofuku no Aoyama (洋服の青山)
Matsumoto Kiyoshi Crost Osaka Mise (マツモトキヨシ クロスト大阪店)
Este's Q's (エステキューズ)
Rohto Seiyaku Supress (ロート製薬 サプレスBC)
J-PHONE
MTV feeling of MTV
Circle K (サークルK)
TV Ou (テレ朝) (TV Asa)
Ousama no O-yashoku (王様のお夜食) (TBS)
BACK-UP! (CX)
ARTIST GARDEN TV (Sky Perfect TV MONDO21)
Hyakujuu Sentai Gaoranger (百獣戦隊ガオレンジャー) - Episode #2
Warauinu no Seikatsu (笑う犬の生活) (CX)
Magazine House "Clique" (マガジンハウス「CLIQUE」)
Shufu to Seikatsusha "ar" (主婦と生活社「ar」)
Koudansha "CHECK MATE" (講談社「CHECK MATE」)
Shuueisha "Shuukan Playboy" (集英社「週刊プレイボーイ」)
KADOKAWA "The Television" (KADOKAWA「ザテレビジョン」)
Recruit Holdings "Sexy" (リクルートホールディングス「ゼクシィ」)
Tokyo News Tsuushinsha "B.L.T" (東京ニュース通信社「B.L.T」)
Media Factory "Girls Zappy" (メディアファクトリー「ガールズザッピィ」)
Bunkasha "Ranzuki" (ぶんか社「Ranzuki」)
Nigensha "UCG" (二玄社「UCG」)
KADOKAWA "Tokyo Walker"
Freycinet Japan "Segravedas" (フレシネジャパン「セグラヴェーダス」)
Acom (アコム)
MINI STOP
Toda Kyoutei (戸田競艇)
Tosho Card (図書カード)
NTT docomo
Cosmo Sekiyu (コスモ石油)
FUJI FILM
Aruze (アルゼ)
Docomo AOL (ドコモAOL)
Her real name is Arai Saki (荒井沙紀), but in Hello! Project she went by the name Arai Saki (荒井紗紀).
She speaks Russian and Korean.
She has two sisters[8]
In June, 2019 her dog died at 16 years old.
Community content is available under
CC-BY-SA
unless otherwise noted.