Akiyama Yurika (秋山ゆりか) is a former Japanese idol and actress. She was best known for being a member of Ciao Bella Cinquetti (formerly known as THE Possible) from 2006 to 2015.
She initially joined Hello! Project in June 2004 as a member of Hello Pro Egg, later graduated from Hello! Project in 2007 when THE Possible was transferred to NICE GIRL Project!. After releasing their first single under Ciao Bella Cinquetti, Akiyama graduated from the group on August 10, 2015 and subsequently retired from the entertainment industry.
History
[
]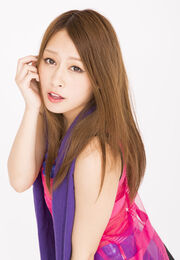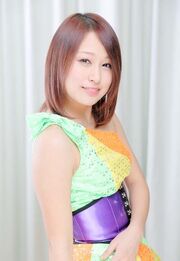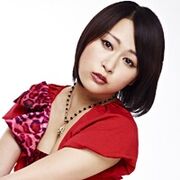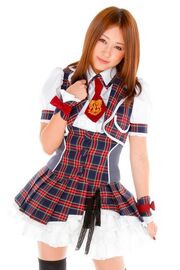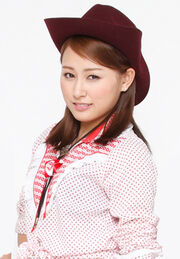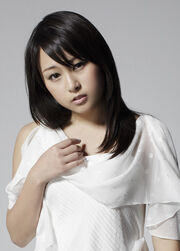 2007
[
]
On October 13, she graduated from Hello Pro Egg along with the other members of THE Possible.
2015
[
]
On August 10, she graduated from Ciao Bella Cinquetti and retired from the entertainment industry.
Statement from Akiyama Yurika[1]
Thank you so much for your support towards to the artists which belong to our company.
At this occasion, the member of Ciao Bella Cinquetti, Yurika Akiyama graduates on the 10th August 2015.
There had been many many discussions with the staff and the members,
but it came to the following result.
"Regarding the future activities, I do not want to go towards with a half-hearted feeling. Please let me graduate now, during this most important moment."
We will respect what she tought about seriously, and even if this regrettable, it reached this conclusion.
To all the fans and to the staff, we really apologize about this sudden announcement.
Ciao Bella Cinquetti will continue as a 4 members group.
It will probably not be a flat road but those 4 women will continue to progress, with all their energy and with the support of the staff altogether.
Please kindly continue to support those women in the future.
UP-FRONT CREATE
Everyone, here is a sudden announcement.
I, Yurika Akiyama, will graduate from Ciao Bella Cinquetti today, 10th August 2015. I am sorry for this abrupt news.
I thought about it many, many times and came to this conclusion.
Inside me, after those 9 years of activities, I had a uncomfortable feeling at the end of the Nakano Sun Plaza's live last year.
I began to think about my own life and I thought about several possibilities about my life.
Meanwhile, the circumstances change, the activities speed raised up, and little by little, I began to feel a difference of enthusiasm with the 4 other members.
From now, the group Ciao Bella Cinquetti will get bigger and bigger.
And I wondered if it was my concern...
I have being troubled like this for 6 months.
Even working with this, I don't know if I can't face this suffering. I do not forgive myself being like this.
It is impossible for me to impose those troubles to everyone. I am so sorry to all the fans.
Everyone is serious so I had to think seriously as well.
This group has been created 9 years ago.
I am in this industry for 11 years.
To say it frankly, 80% of the activities were painful, while 20% were fun... But because those 20% were fun and "special", I tried my best for this and cut down with the majority of the pain.
Concerning my life, music is essential, there is a deep meaning in every single sound and word, and singing helped me about the fact I dislike not being able to express my feelings with my poor talk.
With the songs, I can deliver my feelings.
This carrier has ups and downs.
Sometimes, it is painful like when the oxygen disappears, and I had times when I wanted to throw out everything. However, being able to reach go this far was thanks to my family who supported me whatever happened. It is also thanks to the staff who even reduced their sleeping time in order to continue to go on. Of course there also Tsunku♂ who watched me warmly and welcomed me in this industry. And there are those members, who were like my family and with who I lived my youth, during acid but also sweet moments.
And there is the love of the fans, which really support the group, myself, with this straight devotion.
Because there had been many people involved, I did not give up.
It took 8 years but we have been able to tour nation-wide, we stood up in Nakano Sun Plaza. The single which has been released this year reached the 3rd place of the Top Oricon.
With my character which gets tiresome easily, I continued the musical activities.
And with the 9th anniversary live celebration...
It was a huge satisfaction inside me.It was a pure moment of happiness.
I took the resolution of taking from now a new road.
To not loose to the 4 remaining members, I will fully go to my next goal.
I am sorry for talking selfishly.
I would like to thank so much all the fans who support me until the end.
I am full of gratitude.
Please continue to support Ciao Bella Cinquetti (previously The Possible) in the future.
Yurika Akiyama
Personal Life
[
]
Akiyama has a brother 4 years younger than her.
Her family owns 3 dogs, named Kane, Ron and Rinrin.
When Akiyama joined Hello Pro Egg in June 2004, she was a sixth year elementary school student. She graduated from high school in March 2010.
Akkyan (あっきゃん): Official nickname, given her since joining Hello Pro Egg. Used by members and fans.
Profile
[
]
Name: Akiyama Yurika (秋山ゆりか)
Nickname: Akkyan (あっきゃん)
Birthdate: October 19, 1992
Blood Type: AB
Height: 158 cm (5 ft 2.2 in)

?

Western Zodiac: Libra
Eastern Zodiac: Monkey
Hello! Project Status:
UP-FRONT GROUP Status:
Ciao Bella Cinquetti Color: Purple
Hello! Project Groups:
Concert Units:
Other Groups:
Hobbies: Nail art, taking pictures, eating, singing
Special Skill: Badminton
Strong Point: Willfullness
Weak Point: Gets bored easily
Charm Point: Her cheeks
Favorite Music Genre: Western music
Favorite Sports: Baseball, soccer
Dislikes: Her skin color
Favorite Food: Apples, strawberries, meat
Least Favorite Food: Green pepper, eggplant
Favorite Phrase: Onaka suita (お腹すいた; I'm hungry)
Favorite Word: Smile
Favorite English Word: Love
Favorite Color: Purple
Favorite Animal: Cat
Favorite Flower: Lily
Favorite School Subjects: Society, Music
Favorite TV Show: Yo ni mo Kimyouna Monogatari
Favorite Movie: Nihon Chinbotsu
Favorite Hello! Project Song:
Suki na Senpai
Looks Up To: Matsuura Aya, Goto Maki
Discography
[
]
Main article: Akiyama Yurika/Discography
Solo Songs
[
]
DVDs
[
]
[2009.08.26] Akkyan Chu (あっきゃんChu)
[2011.07.13] Akkyan Buchu (あっきゃんBuchu)
Publications
[
]
Solo Photobooks
[
]

[2009.06.25] Akkyanbee (あっきゃんべー)
Group Photobooks
[
]
[2007.07.13] Doki☆Doki☆Possible (ドキ☆ドキ☆ポッシボー)
[2007.07.13] Kyapi♡Kyapi♡Possible? (キャピ♡キャピ♡ポッシボー)
[2008.08.25] Baribari Mizugi DE Possible! (バリバリ水着DEポッシボー!)
Works
[
]
Theater
[
]
[2006.08.02] CRY FOR HELP! ~Uchuu Station Chikaku no Baiten ni te~ (CRY FOR HELP!~宇宙ステーション近くの売店にて~)
[2010] Fushigi Yuugi (as Hongo Yui)
[2011] Fushigi Yuugi ~Shujaku Hen~ (as Hongo Yui)
[2011] Alice in Chrono Paradox
[2012] Fushigi Yuugi ~Seiryuu Hen (as Hongo Yui)
TV Programs
[
]
Films
[
]
[2011] Cheerfu11y (チアフリー)
Trivia
[
]
Her favorite character is Stitch.
Her lucky number is 28.
She compares herself to a cat.
Her ideal type is someone shy, while she doesn't like people who show off too much.
She has the same last name as Tsubaki Factory member Akiyama Mao.
References
[
]
External Links
[
]
Hello Pro Kenshuusei
Members
Current Members
Former Members
Concerts & Events
Shinjin Kouen Concerts
Happyoukai Concerts

2011
2012
2013
2014
2015
2016
2017
2018
2019
2020
2021
2022
Test Events

Other
Units & Other Acts
Sub-Units & Groups
Debuted Acts
Associated Acts
Related Acts