Adrenaline Dame / Yowasa ja nai yo, Koi wa / Idol Tenshoku Ondo (アドレナリン・ダメ/弱さじゃないよ、恋は/アイドル天職音頭; Adrenaline is No Good / Love is Not a Weakness / Idol Dream Job Ondo) is Tsubaki Factory's 9th single. It was released on June 29, 2022 in 7 editions: 3 regular and 4 limited. The first press of the regular editions includes a random member trading card of 12 kinds depending on the jacket (36 in total), and one random shiny group card.[1]
The Limited Edition SP includes a download card for one of 12 Free Angle Videos of an "Adrenaline Dame" solo dance shot video.
It was certified gold by the RIAJ, recognizing the sale of over 100,000 copies.[2]
Tracklist
[
]
CD
[
]
Adrenaline Dame
Yowasa ja nai yo, Koi wa
Idol Tenshoku Ondo
Adrenaline Dame (Instrumental)
Yowasa ja nai yo, Koi wa (Instrumental)
Idol Tenshoku Ondo (Instrumental)
Limited Edition A Blu-ray
[
]
Adrenaline Dame (Music Video)
Adrenaline Dame (Dance Shot Ver.)
Adrenaline Dame (Making Eizou) (メイキング映像; Making Video)
Limited Edition B Blu-ray
[
]
Yowasa ja nai yo, Koi wa (Music Video)
Yowasa ja nai yo, Koi wa (Dance Shot Ver.)
Yowasa ja nai yo, Koi wa (Making Eizou)
Limited Edition C Blu-ray
[
]
Idol Tenshoku Ondo (Music Video)
Idol Tenshoku Ondo (Dance Shot Ver.)
Idol Tenshoku Ondo (Making Eizou)
Featured Members
[
]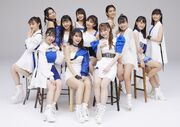 Single Information
[
]
Adrenaline Dame
Yowasa ja nai yo, Koi wa
Idol Tenshoku Ondo
Concert Performances
[
]
Adrenaline Dame
Yowasa ja nai yo, Koi wa
Chart Positions
[
]
Oricon Chart Positions

[

]
Daily & Weekly Rankings
Mon
Tue
Wed
Thu
Fri
Sat
Sun
Week Rank
Sales
-
1
63,534
3
3,282
2
1,991
6
2
833
8
1
70,830
21
-
-
-
-
-
-
45
606
-
-
-
-
-
-
-
31
1,051
-
-
-
8
-
-
-
53
463
-
-
-
12
-
-
-
50
597
-
-
-
17
-
-
-
74
333
Monthly Ranking
| Year | Month | Month Rank | Sales | Ref |
| --- | --- | --- | --- | --- |
| 2022 | June | 6 | 73,547 | [3] |
Total Reported Sales: 73,880*
Weekly Combined Ranking
| Week Rank | Points |
| --- | --- |
| 1 | 73,584 |
| Week Rank | Sales | Ref |
| --- | --- | --- |
| 1 | 94,726 | [4] |
| 42 | 617 | [5] |
| 34 | 1,256 | [6] |
| 47 | 539 | [7] |
| 47 | 758 | [8] |
| 66 | N/A | |
Total Reported Sales: 97,896*
Recochoku Music Video Rankings
[
]
| Song | Daily Rank | Weekly Rank | Monthly Rank |
| --- | --- | --- | --- |
| Adrenaline Dame | 1 | 3 | 23 |
| Yowasa ja nai yo, Koi wa | 2 | 10 | 36 |
| Idol Tenshoku Ondo | 3 | 15 | 46 |
Other Chart Rankings
[
]
Trivia
[
]
References
[
]
External Links
[
]
Tsubaki Factory
Members
Current Members
Former Members
Discography
Singles

Indies
Major

9. Adrenaline Dame / Yowasa ja nai yo, Koi wa / Idol Tenshoku Ondo

Collab

Albums
Digital Songs
Units & Other Acts
Associated Acts