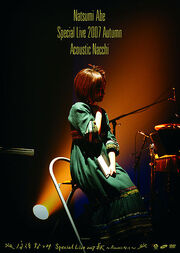 Abe Natsumi Special Live 2007 Aki ~Acoustic Nacchi~
(安倍なつみ Special Live 2007秋 ~Acousticなっち) is
Abe Natsumi
's 2007 concert featuring a live band. The concert DVD was released on February 6, 2008 on the
hachama
label. The concert tour lasted from October to November 2007 with a total of 9 shows done in 8 days. The DVD contains footage from the November 18, 2007 show featuring
Yasuda Kei
as an special guest. It sold 4,370 copies.
OPENING
Kuchibiru de Tomete (くちびるで止めて)
Tokyo Michikusa (東京みちくさ)
MC
Itoshiki Tomo e (愛しき悪友へ)
Yume Naraba (夢ならば)
MC
Yuugure Sakusen Kaigi (夕暮れ作戦会議)
OGIYODIORA
MC
Suki de x5 (好きで×5)
MC
Memory Seishun no Hikari (Memory 青春の光)
MC
Ima, Ichiban no Arigatou (今、いちばんのありがとう)
Toumorokoshi to Sora to Kaze (トウモロコシと空と風)
MC
Iki wo Kasanemashou (息を重ねましょう)
Shousetsu no Naka no Futari (小説の中の二人)
MC
Koi no Hana (恋の花)
OL no Jijou (OLの事情 )
Otona e no Elevator (大人へのエレベーター)
MC
Too far away ~Onna no Kokoro~ (Too far away~女のこころ~)
ENCORE
Furusato (ふるさと)
MC
Itoshiki Hito (愛しき人)
Community content is available under
CC-BY-SA
unless otherwise noted.