m

(19 intermediate revisions by 2 users not shown)
Line 1:
Line 1:
 

{{lowercase_title}}

 

{{lowercase_title}}

 
+
 

{{CD Infobox

 

{{CD Infobox

 

|color1 = Smile

 

|color1 = Smile

Line 7:
Line 8:
 

|Caption =

 

|Caption =

 

|type = Single

 

|type = Single

 
+

|typedescriptor = Indies

 

|artist = [[S/mileage]]

 

|artist = [[S/mileage]]

 

|album = [[Warugaki ①]]

 

|album = [[Warugaki ①]]

Line 15:
Line 17:
 

|label = {{LinkBug|Good Factory Record}}

 

|label = {{LinkBug|Good Factory Record}}

 

|producer = [[Tsunku]]

 

|producer = [[Tsunku]]

−

|Next = [[Asu wa Date na no ni, Ima Sugu Koe ga Kikitai]] <small>2nd Indie Single (2009)</small>

+

|Next = [[Asu wa Date na no ni, Koe ga Kikitai]] <small>2nd Indie Single (2009)</small>

 

|Cover2 = AManoJaku-dvd.jpg

 

|Cover2 = AManoJaku-dvd.jpg

 

|Caption2 = Single V

 

|Caption2 = Single V

Line 29:
Line 31:
 

===Single V===

 

===Single V===

 

#aMa no Jaku (MUSIC CLIP)

 

#aMa no Jaku (MUSIC CLIP)

−

#Making of (メイキング映像)

+

#Making (メイキング映像)

 
 
 

==Featured Members==

 

==Featured Members==

Line 37:
Line 39:
 

*[[Fukuda Kanon]]

 

*[[Fukuda Kanon]]

 

*[[Ogawa Saki]]

 

*[[Ogawa Saki]]

 
+
 
⚫
 
⚫
 
⚫
 
⚫
 
⚫
 
+

*Music Video: [[Side:Ohashi Yosei|Ohashi Yosei]]

 
 
 

==Concert Performances==

 

==Concert Performances==

 

;aMa no Jaku

 

;aMa no Jaku

 

*[[Hello! Project 2009 Shinjin Kouen 6gatsu ~Nakano Step!~]]

 

*[[Hello! Project 2009 Shinjin Kouen 6gatsu ~Nakano Step!~]]

−

*[[Hello! Project 2009 Summer Kakumei Gannen ~Hello! Champloo~]]

+

*[[Hello! Project 2009 Kakumei Gannen ~Hello! ~]]

−

*[[Mano Erina First Concert Tour「 Introduction ~Hajimete no Kandou~ 」]]

+

*[[Mano Erina First Concert Tour Introduction ~Hajimete no Kandou~]]

 

*[[Hello! Project 2009 Shinjin Kouen 9gatsu ~Yokohama Jump!~]]

 

*[[Hello! Project 2009 Shinjin Kouen 9gatsu ~Yokohama Jump!~]]

 

*[[Hello! Project 2009 Shinjin Kouen 11gatsu ~Yokohama Fire!~]]

 

*[[Hello! Project 2009 Shinjin Kouen 11gatsu ~Yokohama Fire!~]]

Line 49:
Line 58:
 

*[[S/mileage 1st Live Tour 2010 Aki ~Devil Smile Angel Smile~]]

 

*[[S/mileage 1st Live Tour 2010 Aki ~Devil Smile Angel Smile~]]

 

*[[S/mileage 2011 Limited Live "S/mile Factory"]]

 

*[[S/mileage 2011 Limited Live "S/mile Factory"]]

−

*[[S/mileage Concert Tour 2011 Aki ~Gyakushuu no Mini Skirt~]] <small>- 2nd Generation</small>

+

*[[S/mileage Concert Tour 2011 Aki ~Gyakushuu no Mini Skirt~]] <small>- </small>

−

*[[S/mileage Best Album Kanzenban ① Hatsubai Kinen Special Concert]]

+

*[[S/mileage Best Album Kanzenban ① Hatsubai Kinen Special Concert]]

 

*[[Naruchika 2013 Aki ℃-ute x S/mileage]]

 

*[[Naruchika 2013 Aki ℃-ute x S/mileage]]

 

*[[S/mileage LIVE 2014 Natsu FULL CHARGE ~715 Nippon Budokan~]]

 

*[[S/mileage LIVE 2014 Natsu FULL CHARGE ~715 Nippon Budokan~]]

 
+

*[[ANGERME Concert Tour 2017 Haru ~Kawaru Mono Kawaranai Mono~]]

 
+

*[[Hello! Project Kenshuusei Happyoukai 2018 9gatsu ~Momiji~]] <small>- [[Shimakura Rika]], [[Hashisako Rin]], [[Doi Rena]], [[Shutto Anna]]</small>

 
+

*[[ANGERME Concert Tour 2019 Haru ~Rinnetenshou~|Hello Pro Premium ANGERME Concert Tour 2019 Haru Final Wada Ayaka Sotsugyou Special Rinnetenshou ~Aru Toki Umareta Ai no Teishou~]] <small>- [[Wada Ayaka]]</small>

 
 
 
+

==Additional Videos==

⚫
 
⚫
 
⚫
 
⚫
 
⚫
 
−
 
−

==Trivia==

 
−

*After [[Ogawa Saki]] left the group, her lines went to [[Nakanishi Kana]]. Following Maeda's graduation, Ogawa's line were divided between Nakanishi and [[Takeuchi Akari]].

 
−

*After [[Maeda Yuuka]] left the group, her lines went to [[Katsuta Rina]] and [[Tamura Meimi]].

 
−
 
−

==Video==

 
 

<gallery>

 

<gallery>

 

Smileage - aMa no Jaku (MV) (Dance Shot Ver.)|Dance Shot Ver.

 

Smileage - aMa no Jaku (MV) (Dance Shot Ver.)|Dance Shot Ver.

Line 77:
Line 79:
 

*[http://ameblo.jp/tsunku-blog/entry-10350465530.html Tsunku's Official Comments]

 

*[http://ameblo.jp/tsunku-blog/entry-10350465530.html Tsunku's Official Comments]

 

*Lyrics: [http://projecthello.com/smileage/ama.html aMa no Jaku]

 

*Lyrics: [http://projecthello.com/smileage/ama.html aMa no Jaku]

 
+
 

{{S/mileage}}

 

{{S/mileage}}

 
 
 
+
 
+
 
+
 
⚫
 
⚫
 
⚫
 
⚫
 
⚫
 
+

[[it:aMa no Jaku]]

 
⚫
 
+

[[zh:ぁまのじゃく]]

 

[[Category:ANGERME Singles]]

 

[[Category:ANGERME Singles]]

 

[[Category:1st Generation S/mileage Singles In]]

 

[[Category:1st Generation S/mileage Singles In]]

Line 87:
Line 101:
 

[[Category:ANGERME DVDs]]

 

[[Category:ANGERME DVDs]]

 

[[Category:2009 Single Vs]]

 

[[Category:2009 Single Vs]]

 
+

[[Category:ANGERME Debuts]]

−
 
⚫
 
⚫
 
⚫
 
⚫
 
⚫
 
⚫
 
---
Revision as of 14:41, 21 November 2019
aMa no Jaku (ぁまのじゃく; Contradictory) is the first indie single from the Japanese pop group S/mileage. It was released on June 7, 2009 under the Good Factory Record label. The Single V was released on July 19, 2009.
Tracklist
CD
aMa no Jaku
aMa no Jaku (Instrumental)
Single V
aMa no Jaku (MUSIC CLIP)
Making Eizou (メイキング映像; Making the Video)
Featured Members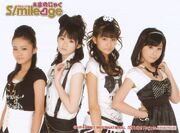 Single Information
aMa no Jaku
Concert Performances
aMa no Jaku
Additional Videos
External Links
Community content is available under
CC-BY-SA
unless otherwise noted.