This page contains links that redirect you to another Wikia community. For more information, see this page.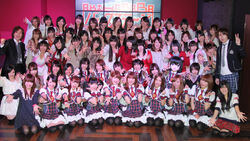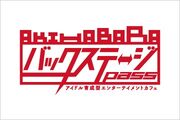 AKIHABARA Backstage pass (AKIHABARAバックステージpass) is a café opened by Tsunku and Shikura Chiyomaru in December 2011 under their joint agency, Le:iDo Entertainment. The café is idol themed, where the maids are aspiring idols while the customers are the "producers".
In total, Akihabara Backstage Pass is composed of over 100 current and former members. The members appear in TNX's Tsuntsube, and some may appear in gravure-related work. Some of the current and past members are from the idol groups Afilia Saga, Apple Tale, Lovely Doll, Doll Elements, C*Lover and THE Possible.
Bakusute Sotokanda Icchoume
[
]
Bakusute Sotokanda Icchome (バクステ外神田一丁目) is a unit consisting of AKIHABARA Backstage pass members. It was formed on May 1, 2012, announcing their first indies single Produce. So far, Bakusute Sotokanda Icchoume has released 2 indies singles and an upcoming major single.
While the majority of the AKIHABARA Backstage cast are members of Bakusute Sotokanda Icchoume, not everyone is used for the jackets. The covers goes to the members who have high weekly popularity rankings, along with selected girls choosen by the Bakusute staff and the label company (Warner Music Japan).
Beginning with Yoropiku Pikuyoro!, there is a store edition for each single. The store edition is only avaiable in the Bakusute store in the AKIHABARA Backstage pass café.
Members
[
]
Please visit the AKIHABARA Backstage pass Wiki for more info.
History
[
]
2011
[
]
On December 23, the cafe had an opening day event. It was announced that the cafe is a joint project, with Tsunku, the representative of TNX, and Shikura Chiyomaru, owner of a themed cafes chain. While the cafe's theme is inspiring idols training to debut, they had auditions for the girls for a chance to work at the cafe. Tsunku selected 80 girls out of 1,000+ applicants to be potential idols, quoting "We held an audition the same way we did with Morning Musume."
Outside the 80 girls, there were also other groups participating in the cafe in its opening: OS☆U, Doll Elements (the trainees of Lovely Doll) and THE Possible. Afterwards, 15 of the opening staff performed LOVE Machine on stage for the first time.
2013
[
]
In February, 4th Generation auditions were announced.
In June, 5th Generation auditions were announced.
Discography
[
]
Below is the discography for the group Bakusute Sotokanda Icchome.
Singles
[
]
Indie Singles
[
]
Major Singles
[
]
Albums
[
]
DVDs
[
]
Trivia
[
]
See Also
[
]
External Links
[
]