2015 ANGERME Shin Member Audition (2015アンジュルム新メンバーオーディション) was an audition to for 4th generation member(s) of ANGERME. The audition was announced by leader Wada Ayaka on Hello! Project Station on June 24, 2015.[1] The application process began on July 2 and the deadline to submit an application was August 16. 
The audition resulted in one new member being added to the group on November 11, 2015: 16-year-old Kamikokuryo Moe.[2]
Audition Details
[
]
Application Requirements:

Female, Minimum of age 10 and maximum of 17 years of age by July 1, 2015.
Must not currently be under contract with any agencies.
Must have consent from legal guardian if under age.

Application Deadline: August 16, 2015
Total Applicants: 1,800+
Training Camp Choreographer: YOSHIKO
Broadcast: Hello! Project Station (post-audition)
Audition Process
[
]
First Round
[
]
The application deadline was August 16, 2015.
Second Round
[
]
The second round was held on September 5 and 6, 2015. Each candidate had their profile viewed and was interviewed. Those arbitrarily selected by the judges went on to the third round.
Third Round
[
]
The candidates gathered in Tokyo for further screening. From there, they were selected, and invited to the training camp.
In this round the girls had to:[3]
Show a special skill.
Give a performance to the rhythm of "Gashin Shoutan".
Sing song of their choice.
Identified participants in the third round include:
Results
[
]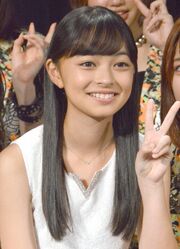 The sole winner of the 2015 ANGERME Shin Member Audition had been chosen and was revealed on November 11, 2015 during a "Desugita Kui wa Utarenai / Dondengaeshi / Watashi" release event:[2][4]
Comments by Judging Panel and Members
[
]
Comments from Taisei (ANGERME's recording director and member of the judging panel):

"She's obviously pretty, but her biggest charm is her pureness. Her eyes power is also strong, although they became weak from so much crying, but she surely has a mysterious charm. As for singing, her technique isn't good yet as expected, but her base was the best from among everyone else. Her voice is also beautiful."

Comments from members:

Wada Ayaka: "Before entering to our room to meet us for the first time, she was crying. When we saw that, we thought "Those are angel tears indeed." While crying, she said "I'm so happy although I look sad crying right now, but I will do my best."
Trivia
[
]
Gallery
[
]
References
[
]
External Links
[
]