℃OMPLETE SINGLE COLLECTION is the third compilation and final album by ℃-ute. It was released on May 3, 2017 in 3 editions: 1 regular and 2 limited.
All editions come with 3 CDs. The Regular Edition includes with 3 bonus CDs containing a Coupling Collection + Rare Track Collection (カップリング集+レアトラック集). Limited Edition A comes with a Blu-ray of the ℃-ute Special Live 2017 ~℃ocktail in ℃OTTON CLUB~ recorded on Febuary 9, 2017, while Limited Edition B comes with a Blu-ray containing a music video collection. The limited editions come with an event lottery serial number card.
Tracklist
Edit
Regular Edition Bonus CDs
Edit
Limited Edition Blu-rays
Edit
Featured Members
Edit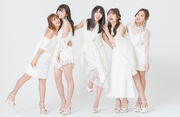 Album Information
Edit
Yuki ga Chirari
Kimi wa Jitensha Watashi wa Densha de Kitaku (Winter Ver.)
Juliet Juliet
Neruko wa Cute
Gamusha LIFE (Acoustic Ver.)
Samurai☆Baby
Atarumo Hakke!?
Yume
RIN
Zenbu Owatta Kaerimichi
Lyrics and Composition: Tsunku
Arrangement: Okubo Kaoru
Concert Performances
Edit
Juliet Juliet
Yume
RIN
Chart Positions
Edit
Daily & Weekly Rankings
| Mon | Tue | Wed | Thu | Fri | Sat | Sun | Week Rank | Sales |
| --- | --- | --- | --- | --- | --- | --- | --- | --- |
| - | 5 | 5 | 6 | 7 | 6 | 6 | 5 | 14,456 |
| 6 | 25 | 20 | 21 | 24 | 22 | 31 | 24 | 2,384 |
| 19 | - | - | - | - | 50 | 48 | 57 | 1,049 |
| 46 | - | - | - | - | - | - | 86 | 799 |
| 41 | - | - | - | - | - | - | 84 | 694 |
| - | - | - | - | - | - | - | 115 | 551 |
| - | - | - | - | - | - | - | 71 | 813 |
| - | - | - | - | - | - | - | 172 | 430 |
| - | - | - | - | - | - | - | 236 | 442 |
Total Reported Sales: 21,518*
Billboard Japan Top Album Sales
Edit
Weekly Rankings
Total reported sales: 17,096*
References
Edit
External Links
Edit
℃-ute
Concerts & Events

Concerts

Spring Tours: 2007 (Hajimatta yo! Cutie Show, Golden Hatsu Date) | 2009 | 2010 | 2011 | 2012 | 2013 | 2014 | 2015 | 2016
Summer Tours: 2008 | 2009 | 2010
Fall Tours: 2007 | 2013 (Budokan, Tour) | 2014 | 2015 | 2016
Winter Tours: 2012-2013 | 2017
Naruchika: 2014 | 2015 (Spring, Winter) | 2017
Overseas: 2013 (Paris) | 2014 (Taipei) | | 2015 (Mexico) | 2016 (Hong Kong & Taipei) | 2017 (Mexico, Paris)
Others: 2006 | 2007 | 2008 (LOVE Escalation!, ℃-ute no Hi) | 2009 (℃-ute no Hi, FIVE) | 2010 | 2011 (Kiss me Aishiteru, ℃-ute no Hi) | 2012 (Otodama, ℃-ute no Hi) | 2013 | 2014 (Otodama, ℃-ute no Hi) | 2015 (Otodama, ℃-ute no Hi) | 2016 (Otodama, ℃-Fes!) | 2017 (℃ocktail, ℃ocktail in ℃OTTON CLUB, Last Dinner Show, Last Concert)

Other Concerts & Events
Joint Concerts

Spring Tours: 2008 (with Berryz Koubou) | 2011 (with S/mileage)
Fall Tours: 2011 (with Berryz Koubou) | 2013 (with S/mileage)
Other: 2014 (with Berryz Koubou)

Hello! Project Concerts

Summer Tours: 2009 | 2010 | 2011 | 2012 | 2013 | 2014 | 2015 | 2016
Winter Tours: 2010 | 2011 | 2012 | 2013 | 2014 | 2015 | 2016 | 2017
Hina Fes: 2013 | 2014 | 2015 | 2016 | 2017
COUNTDOWN PARTY: 2013 | 2014 | 2015 | 2016
Other Concerts: Hello! Project ☆ Festival 2011 | Hello! Project Yaon Premium Live ~Soto Fest~ | Berryz Koubou Matsuri