℃-ute Dinner Show 2017 ~℃ocktail~


Logo

℃-ute

Concert Tour
Native title
℃-ute ディナーショー2017 ~℃ocktail~
Opening Date
February 5, 2017
Closing Date
February 19, 2017

℃-ute

Concert Tours Chronology
Previous
Naruchika 2017 ℃-ute 2017 Live House Tour (Concurrent)
Next
℃ocktail in ℃OTTON CLUB 2017 Special Live (Concurrent)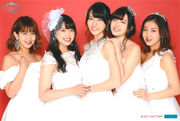 ℃-ute Dinner Show 2017 ~℃ocktail~ (℃-ute ディナーショー2017 ~℃ocktail~) is ℃-ute's first dinner live. Two lives took place on February 5, 2017 at The Westin Nagoya Castle, and another two took place on February 19, 2017 at the Niigata Toei Hotel.
MC
MC - Toast
MC - Band introductions
MC - Happy Birthday song for Nakajima Saki (2/5 only)
Dance de Bakoon!
Encore
Featured Members
Edit
Concert Schedule
Edit
Date
Venue
Prefecture
Doors Open
Dinner Starts
Show Starts
2/5
The Westin Nagoya Castle
Seiun no Ma
Aichi
14:00
14:30
15:30
18:00
18:30
19:30
2/19
Niigata Toei Hotel
Hakuchou no Ma
Niigata
13:30
14:00
15:15
17:15
17:45
19:00
Nakajima Saki's birthday (February 5) was celebrated during the live.
External Links
Edit
℃-ute
Concerts & Events

Concerts

Spring Tours: 2007 (Hajimatta yo! Cutie Show, Golden Hatsu Date) | 2009 | 2010 | 2011 | 2012 | 2013 | 2014 | 2015 | 2016
Summer Tours: 2008 | 2009 | 2010
Fall Tours: 2007 | 2013 (Budokan, Tour) | 2014 | 2015 | 2016
Winter Tours: 2012-2013 | 2017
Naruchika: 2014 | 2015 (Spring, Winter) | 2017
Overseas: 2013 (Paris) | 2014 (Taipei) | | 2015 (Mexico) | 2016 (Hong Kong & Taipei) | 2017 (Mexico, Paris)
Others: 2006 | 2007 | 2008 (LOVE Escalation!, ℃-ute no Hi) | 2009 (℃-ute no Hi, FIVE) | 2010 | 2011 (Kiss me Aishiteru, ℃-ute no Hi) | 2012 (Otodama, ℃-ute no Hi) | 2013 | 2014 (Otodama, ℃-ute no Hi) | 2015 (Otodama, ℃-ute no Hi) | 2016 (Otodama, ℃-Fes!) | 2017 (℃ocktail, ℃ocktail in ℃OTTON CLUB, Last Dinner Show, Last Concert)

Other Concerts & Events
Joint Concerts

Spring Tours: 2008 (with Berryz Koubou) | 2011 (with S/mileage)
Fall Tours: 2011 (with Berryz Koubou) | 2013 (with S/mileage)
Other: 2014 (with Berryz Koubou)

Hello! Project Concerts

Summer Tours: 2009 | 2010 | 2011 | 2012 | 2013 | 2014 | 2015 | 2016
Winter Tours: 2010 | 2011 | 2012 | 2013 | 2014 | 2015 | 2016 | 2017
Hina Fes: 2013 | 2014 | 2015 | 2016 | 2017
COUNTDOWN PARTY: 2013 | 2014 | 2015 | 2016
Other Concerts: Hello! Project ☆ Festival 2011 | Hello! Project Yaon Premium Live ~Soto Fest~ | Berryz Koubou Matsuri