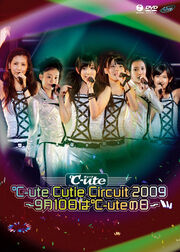 ℃-ute Cutie Circuit 2009 ~9gatsu 10ka wa ℃-ute no Hi~
(℃-ute Cutie Circuit 2009~9月10日は℃-uteの日~) was
℃-ute
's 2009 Cutie Circuit concert. The concert DVD was filmed on September 10, 2009 and released on November 25, 2009.
The DVD ranked at #12 on Oricon's DVD chart and sold a total of 5,596 copies.
OPENING SE
Iku ZYX! FLY HIGH (行くZYX! FLY HIGH)
Bishoujo Shinri (美少女心理)
MC
Disco Queen (ディスコ クイーン) - Nakajima Saki, Hagiwara Mai
Tsuugaku Vector☂ (通学ベクトル☂) - Suzuki Airi
Natsu Doki Lipstick (夏DOKI リップスティック) - Yajima Maimi
MC
Bokura no Kagayaki (僕らの輝き) - Umeda Erika, Okai Chisato
Enkakashu "Chuzenji Nakiko" no Corner (演歌歌手「中禅寺ナキ子」のコーナー)
DJ Maimai, MC Chisaa, & MC Kappa's Corner (DJマイマイ、MCチッサー&MCカッパーのコーナー)
Massara Blue Jeans (まっさらブルージーンズ)
Soku Dakishimete (即 抱きしめて)
Ooki na Ai de Motenashite (大きな愛でもてなして)
MC
★Akogare My STAR★ (★憧れ My STAR★)
Namida no Iro (涙の色)
Tokaikko Junjou (都会っ子 純情)
"Wasuretakunai Natsu" (「忘れたくない夏」)
ENCORE
Yakusoku wa Toku ni Shinai wa (約束は特にしないわ)
JUMP
MC
Wakkyanai (Z) (わっきゃない(Z))
Extras
℃-ute Off-shot 2006~2009 Mikoukai Gazou mo Shuuroku!!
Featured Members
Edit
External Links
Edit
℃-ute
Concerts & Events

Concerts

Spring Tours: 2007 (Hajimatta yo! Cutie Show, Golden Hatsu Date) | 2009 | 2010 | 2011 | 2012 | 2013 | 2014 | 2015 | 2016
Summer Tours: 2008 | 2009 | 2010
Fall Tours: 2007 | 2013 (Budokan, Tour) | 2014 | 2015 | 2016
Winter Tours: 2012-2013 | 2017
Naruchika: 2014 | 2015 (Spring, Winter) | 2017
Overseas: 2013 (Paris) | 2014 (Taipei) | | 2015 (Mexico) | 2016 (Hong Kong & Taipei) | 2017 (Mexico, Paris)
Others: 2006 | 2007 | 2008 (LOVE Escalation!, ℃-ute no Hi) | 2009 (℃-ute no Hi, FIVE) | 2010 | 2011 (Kiss me Aishiteru, ℃-ute no Hi) | 2012 (Otodama, ℃-ute no Hi) | 2013 | 2014 (Otodama, ℃-ute no Hi) | 2015 (Otodama, ℃-ute no Hi) | 2016 (Otodama, ℃-Fes!) | 2017 (℃ocktail, ℃ocktail in ℃OTTON CLUB, Last Dinner Show, Last Concert)

Other Concerts & Events
Joint Concerts

Spring Tours: 2008 (with Berryz Koubou) | 2011 (with S/mileage)
Fall Tours: 2011 (with Berryz Koubou) | 2013 (with S/mileage)
Other: 2014 (with Berryz Koubou)

Hello! Project Concerts

Summer Tours: 2009 | 2010 | 2011 | 2012 | 2013 | 2014 | 2015 | 2016
Winter Tours: 2010 | 2011 | 2012 | 2013 | 2014 | 2015 | 2016 | 2017
Hina Fes: 2013 | 2014 | 2015 | 2016 | 2017
COUNTDOWN PARTY: 2013 | 2014 | 2015 | 2016
Other Concerts: Hello! Project ☆ Festival 2011 | Hello! Project Yaon Premium Live ~Soto Fest~ | Berryz Koubou Matsuri