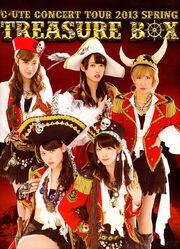 ℃-ute Concert Tour 2013 Haru ~Treasure Box~ (℃-uteコンサートツアー2013春~トレジャーボックス~) is ℃-ute's spring 2013 tour. It ran from April 20 to June 29, 2013.
The DVD for the tour was available in the Limited A edition of ℃-ute's 8th studio album ⑧ Queen of J-POP released on September 4, 2013. The Blu-ray of the concert tour was released on September 25, 2013. The Blu-ray version ranked at #5 and sold 2,930 copies.
Fanclub-exclusive solo angle DVDs were available for pre-order, individually and as a box set, until November 26, 2013[1] and were released to fanclub members late January, 2014.
Setlist
[
]
MC1
MC2 a treasure box will appear; it will decide between 1 of 10 solo performances available
MC3 -Unselected 4
*: Selected Treasure Box Song
Medley
MC4 - Nakajima Saki, Okai Chisato, Hagiwara Mai
EVERYDAY Zekkouchou!! - First Yajima Maimi, Suzuki Airi and then all
MC5
Tokaikko Junjou
Encore
MC6
Blu-ray Extras
Line-up Changes
[
]
*: Performance depending on Treasure box selection

Yajima Maimi
Nakajima Saki
Suzuki Airi
Okai Chisato
Hagiwara Mai
Featured Members
[
]
※: After Kaga was not able to participate, she was replaced by Kaneko.
Gallery
[
]
Concert Schedule
[
]
Date
Venue
Prefecture
Doors Open
Concert Starts
4/20
Harmony Hall Zama
Kanagawa
14:00
15:00
17:30
18:30
4/21
13:30
14:30
17:00
18:00
4/28
Nakano Sun Plaza
Tokyo
14:00
15:00
17:30
18:30
5/6
Sendai Izumi T-21
Miyagi
14:00
15:00
17:30
18:30
5/12
Yokosuka Art Theatre
Kanagawa
14:00
15:00
17:30
18:30
5/18
NHK Osaka Hall
Osaka
14:00
15:00
17:30
18:30
5/25
Yupoto Gotanda Hall
Tokyo
14:00
15:00
17:30
18:30
5/26
Nihon Tokusyu Tougei Forest Hall
Aichi
14:00
15:00
17:30
18:30
6/16
NHK Osaka Hall
Osaka
14:00
15:00
17:30
18:30
6/23
Fukuoka City Hall
Fukuoka
13:30
14:30
17:00
18:00
6/29
Pacifico Yokohama National Convention Hall
Kanagawa
17:00
18:00
Total: 21 Shows
Trivia
[
]
References
[
]
External Links
[
]
℃-ute
Members
Current Members
Former Members
Concerts & Events
Concerts

Spring Tours
Summer Tours
Fall Tours
Winter Tours
One-Day

2008
2009
2011
2012
2013
2014
2015
2016
2017

Overseas
Joint Concerts
Units & Other Acts
Associated Acts