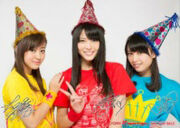 ℃-ute Birthday Kikaku ~Kotoshi wa 5nin de Birthday Event Yacchaimasu! Datte Minna de Tanoshimitai mon!~ (℃-uteバースデー企画~今年は5人でバースデーイベントやっちゃいます!だってみんなで楽しみたいもん!~) is a fanclub and birthday event featuring ℃-ute, celebrating Yajima Maimi's 21st birthday, Nakajima Saki's 19th birthday and Hagiwara Mai's 17th birthday. It took place at Yokohama Blitz on February 5, 2013.
The deadline to pre-order the fanclub-exclusive DVD was on April 26, 2013 and it was released to fanclub members on June 26, 2013.
Featured Members
Edit
MC
Touch (Hagiwara Mai)
External Links
Edit
Community content is available under
CC-BY-SA
unless otherwise noted.