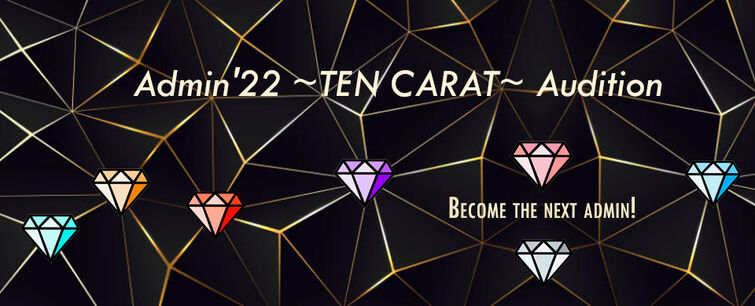 Hello everyone,
Welcome to the Admin'22 ~TEN CARAT~ Audition in which we are searching to find the 10th generation of Admins!
Audition Name
TEN - 10th generation.
CARAT - We are looking for an unpolished diamond who will follow our steps and loves Hello! Project as much as we do.
How to Participate
The requirements for participating are:
being user since at least December 1, 2020.

having 500+ H!P Wiki edits on your account.

No blocks on record.
💎If you have less than a year of activity and 1000+ H!P Wiki edits, we will accept your application.
In order to officially sign up please answer the following questions of the application form in comments below, because we would like to get to know your opinion about Hello! Project Wiki.
Please note that the application deadline is December 22, 2021 (AST).
The results will be announced on January 1, 2022.
Application Form
Username and/or Preferred nickname

Age *

Other languages you speak *

Favorite colors (not used by current admins)

Favorite H!P idol

Why should we choose you to become an admin?

What do you like the most about this wiki?

Is there anything you would like to change in order to make this wiki better? *

Additional comment *
"*" stands for optional question
"To Participate or Not to Participate?"
If you are still wondering about whether you should give it a try or just pass,
let Tsubaki Factory tell you this: FIGHT!
Who knows, maybe the admins' future is in your hands!